Eddie Huang on Fresh Off the Boat: Detroit's Not 'Ratchet,' It's 'F*cking Sad' (VIDEO)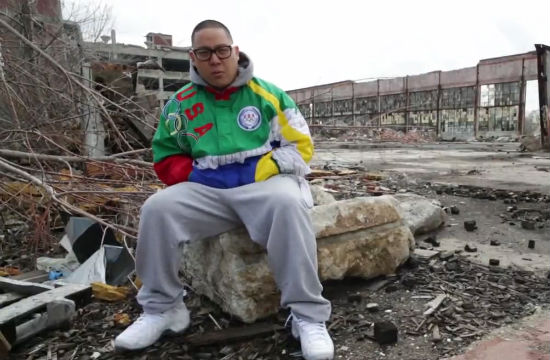 We made the mistake of thinking that Fresh Off the Boat: Detroit Part Two would be the mellowest, most reflective, and darkest installment of the series. Then Part Three happened. If you're cuddled up with blankets and tea on a rainy day jonesin' for a documentary gut-check, we highly recommend watching Eddie Huang's foray into the abandoned Packer plant and meeting the men who live there — one for seven years.
He can barely sit in the soup kitchen for the duration of a meal before shuddering to the camera outside, "It's fucking sad in there." Eddie adds in a reflective car ride monologue:
"For me, it's sad to see, and I can't– I can't cosign this. I can't walk around and be like, 'Shit is gravy.' I can't walk by abandoned buildings and be like, 'Yo look at this shit. It's mad turned up. It's ratchet.' Like, it's not, man. Like, this shit is fucking sad. We talk about all the time, 'It's real out here, it's real out here, this show is real out here.' But it's fucking REAL out here. Do you know what I mean? Like, until we're in that building, with these people, where they live… I asked him where he sleeps. I mean, he's in– it's just straight fucking dirt. There's no lights. It's all coming through holes in the roof. We're standing there, literally, as we were standing there, there was shit falling on our heads through his roof. This dude's lived there for seven fucking years. And I think we're way too eager to be like, 'There's hope, man. They good.' They're not good. Like, they're not fucking good. That's the saddest part is this realization that like, this is it."
…We told you. Do not watch this if you're in a jovial mood. Otherwise, get to it, because it's pretty beautiful, if totally, totally heart-wrenching.
RELATED:
WATCH: Eddie Huang Finds Inspiration with 19-Year-Old Muslim Activists in Dearborn, MI
WATCH: Eddie Huang Goes To Detroit, Gets Yelled at for Pissing on Local Businesses
Have a tip we should know? tips@mediaite.com