WATCH: Eddie Huang Enjoys Local Amphetamines And Sticky Rice Condoms In Taiwan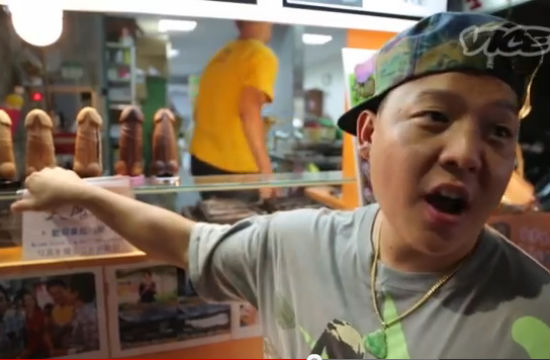 Any episode of Fresh Off the Boat that transitions from scoring local amphetamines, to penis-shaped waffles, to penis-shaped sno-cones, to shrimp fishing in the skeeziest non-Boardwalk Empire-related indoor establishment of all time, a "shrimp club", deserves acclaim of the highest degree. This is only part one of three documenting Eddie Huang's trip back to his native Taiwan, but we can already tell this will be our favorite episode.
In Part One, Eddie visits the night markets. Bin-Lang Beauties are supposedly attractive women who work the strip peddling betel nuts stuffed with a paste of rice wine and amphetamines ("everyone has their own special mixture"), meant to be chewed like chewing tobacco and then spit for a buzz.
Moving on, he highlights two night market delicacies: Hot Star large fried chicken, whose crunch challenges the din of the trendiest Lower East Side eating establishments, and sausage, stuffed with sticky rice, stuffed with pickled vegetables, stuffed with another sausage.
"It's like eating a sausage with a sticky rice condom on," Eddie explains. "And you enjoy it a lot more than you would think."
Then there's the great enemy of the Western palate: gelatinous savory foods. And for dessert: sometimes chocolate-dipped penis-shaped waffles and penis-shaped shaved ice. (Related: if penis waffles aren't a food at Leslie Knope's bachelorette party, we will be sorely disappointed.)
After hours, all the single dudes in Taiwan apparently head to the shrimp club.
"This could be like the Soho House, except instead of shorties in the pool, you've got scrimps."
Yeah, it's a giant pool full of shrimp that you pay to catch and then are able to cook on-site. Eddie doesn't recommend it:
"When we're not here, people probably put their feet in this shit. It smells like a hot spring. I have no idea what — this water is motherfucking green. And there's no vegetation. You really probably should not be eating these scrimps."
Thanks for the guided tour, Eddie.
Watch Part One of Fresh Off the Boat: Taiwan below.
Have a tip we should know? tips@mediaite.com