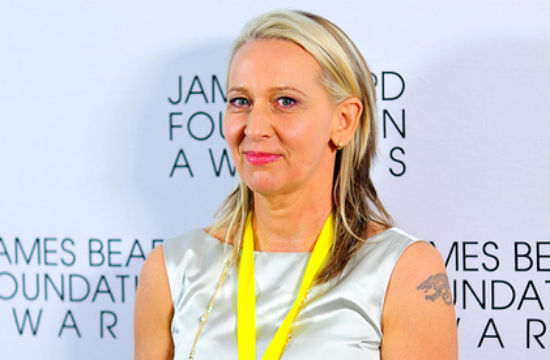 In order to do a little research on the average American home cook, presumably Gabrielle Hamilton's readership when her Prune cookbook is finally finished, she took a quickie road trip through the South to visit the tables of the aforementioned novices, and documented her experience for Bon Appetit. Most of the families welcomed Gab-Ham to the table with charmingly amateur, but deliciously cooked foods.
The family potluck at the Cooleemee Plantation House in Davie County, NC, however? Well, she may have been duped. Writes Gabrielle:
I admire the tiny beans another woman is stirring, and she says, "I don't ever cook butter beans that are but any bigger than a squirrel's ear."

It's a charming thing to say. Almost rehearsed.

She pops a knob of fat in another skillet, slides it into the oven, and taps the door shut.

"Bacon fat?" I ask, eager to get the exact details of everything I will be eating.

"Yes, that's Benton's fat, which has a different flavor profile than Nueske's, which, of course, I use for other things."

What home cook talks about the nuances of the "different flavor profiles" of cult bacon makers? And why is that woman probing her fried chicken with a health department-approved thermometer? I start to worry. Meanwhile, Penny looks genuinely happy for the first time on our trip. We've got good light, handsome food, and a house that enjoys U.S. National Historic Landmark status.

"GH, this is awesome!" she says as I ferry dish after dish onto the porch for her to shoot. While she whistles in photographer heaven, I slide down into a silent writer's ditch.

"There's no story here," I whisper. "These people are foodies. Chefs! I. Am. Dying." Penny giggles at my suffering. I am awed by the food–it's impeccable–so much so that I ask for every recipe, eat everything on the table, and have third helpings of the chicken. But it's researched, perfected, and way too articulately explained. In place of handwritten recipes, two of the potluckers generously give me their published cookbooks! I ask Jay what happened to our abiding idea of home cooks at a family potluck.

"They chickened out," he explains. "And I didn't want to let you down."
Note to self: do not try to impress Gabrielle Hamilton, should she ever grace your table, with your knowledge of bacon fat flavor profiles. She. Will. Die.
You can check out the rest of her travelogue here.
Have a tip we should know? tips@mediaite.com