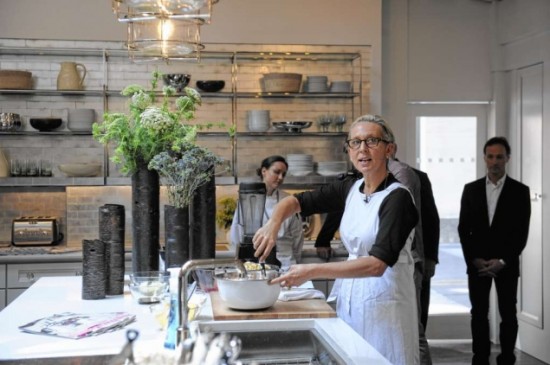 Outside the House Beautiful Kitchen Of The Year, Rockefeller Plaza cracked with blistering, sepia-toned heat. Inside, however, a serene Gabrielle Hamilton made two types of cold vegetable soup in a pristine white kitchen, tuning out the cameras and crowds watching her and the tourists' sweaty faces pressed up against the windows. (For some reason, the kitchen smelled like sea breezes and fresh linen — impressive, for a temporary building in the middle of a city plaza.)
Though last year the Prune chef reached the food media zeitgeist with her James Beard Award-winning menoir Blood, Bones and Butter, she's not quite done yet. We spoke to her about her monthly food column with House Beautiful, and she revealed that she has a mysterious project coming up. "But," she said, smiling coyly, "I'll tell you in about three weeks."
The Braiser: Right now, things are going solidly with Prune and your memoir did quite well. So what made you decide to partner with House Beautiful?
Gabrielle Hamilton: I loved the exercise of writing recipes and writing about food, only I had just finished writing my memoir, which was probing and self-reflective and very taxing. So I thought "Oh, it would be so nice to just talk about roasting a salmon for fifteen minutes, or something relatively simple."
Do you have any projects planned after that?
Possibly, but I'll tell you in about three weeks.
Who are your favorite food writers or writers in general?
I don't tend to read food writers. I think I've read pretty well in the western canon and all of that. Any question I ever had in life I've ever had was answered within the canon, pretty much. I mean, I like contemporary writers as well, but if it wasn't done in the first…
If it wasn't done before the 1890s…
It's just redundant.
It was probably not your intention, but your book is pretty much part of the gospel for a lot of aspiring food writers, and you also have an MFA in creative writing from the University of Michigan. What informed you in your writing more, your experience, or the study of writing theory?
I didn't use anything from my MFA to write the book, I used everything I knew from the hospitality industry. So, I treated the reader like a guest in my restaurant, and I tried to take care of the reader as I would take care of a guest. All of that 25 years of hospitality informed the writing of the book.
This is a question I've been dying to ask every chef, and especially since you have a reputation for being straightforward, what is your favorite epithet? It doesn't have to be vulgar, it just has to be angry.
"See you Next Tuesday."
Oh, that's cold!
 It's not [just] the word, it's the softening of it, the expression. It's so much fun to say because you're not saying anything bad. That's why I love it.
House Beautiful's Kitchen Of The Year is open to the public in Rockefeller Plaza until July 20th.
Have a tip we should know? tips@mediaite.com