The Fat Radish Founders Inspire Clothing Line, Make Their High Fashion Modeling Debut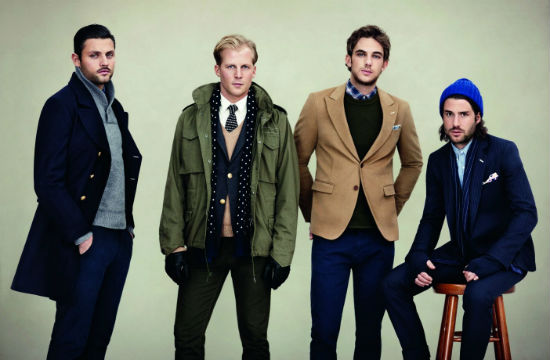 What do we love more than hipster restaurateurs? Hipster restaurateurs styled by fashion people. New York's The Fat Radish may be known for its fried-in-duck-fat french fries and vaguely British fare, but it will now inextricably be linked with GANT Rugger's Fall 2012 line. Their "foodie-infused fall campaign" features none other than the dudes behind the Lower East Side hotspot — Phil Winser and Ben Towill — in impeccably tailored skinny pants and carefully composed layers.
GANT Creative Director Christopher Bastin used "The Chef" and "The Restaurateur" as archetypes to inspire the collection, for all your casual back-of-house and dapper front-of-house needs. Says Bastin:
"I love to cook and this collection is really about how cooking and making clothes overlap. Both require intelligent sourcing, a good sense of the past, and a finished product that's honest but not flashy. For the campaign we wanted to find people who share that approach. Phil and Ben are not only handsome devils, but also specialize in food that is simple, comforting and expertly prepared. It was an ideal match."
Handsome devils, indeed. (Phil and Ben can be spotted as fourth and second from the right in the photo above.) Plus, to complement the foodie angle taken by the line this fall, two specialty items will also be available in the store alongside the collection: a selvedge denim apron and a hand-forged chef's knife. Ooh, man-aprons (maprons?)!
In addition to featuring the restauranteurs in the ads as models, parts of the campaign were shot at The Fat Radish, as well. We're terribly impressed and all, but we can't wait for lady-modeling and food to be able to go so deftly hand-in-hand.
Have a tip we should know? tips@mediaite.com