Gawker Reviews Museum of Sex's Restaurants, Is Nicer Than Ferran Adria About It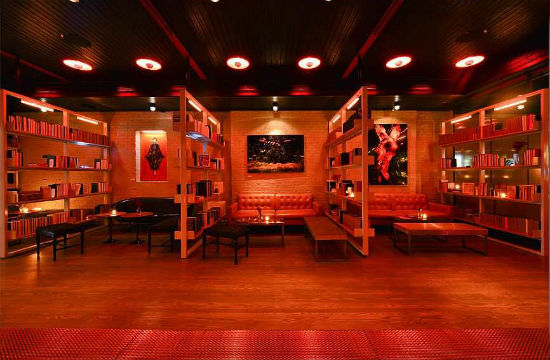 (Image via Play Den)
Pete Wells kept Jean Georges' four stars intact with his New York Times review earlier this week, but meanwhile, further downtown, Gawker's ever-depraved restaurant critic Caity Weaver was reviewing the offerings at the Museum of Sex. The food offerings. No, the restaurants inside the Museum, you pervs. You know, like the bar where Ferran Adria snubbed the chef with a wicked burn for the ages?
Anyway, Caity and her partner in snobbery Rich tried to eat at the Museum's flagship restaurant Play, but it was closed, so they had to settle for the Nice & Sweet Cafe, which, for all its fishy horrors (you heard us), at least sources its pain au chocolate from Balthazaar.
Wrote Caity and Rich of the desserts:
Caity: Fifty percent of the desserts were good. The first, pain au chocolat, was cheating because they get it from an outside restaurant (Balthazar) (delicious). The second was an awful little pyramid shaped cake, and never has the majesty of the pyramids been so demeaned. Lemon olive oil with matcha.

Rich: I liked both. Even the one with your slobber on it.

Caity: I said, "Do you think I could fit this whole pyramid in my mouth?"

And you said, "Probably, but I want to eat it."

And I said, "Would you rather eat it or see something amazing?"

And you said, "The latter, I guess."

Rich: I'm in it for the story. That's my approach to life AND my job. No divide.

Caity: Ladies and gentleman, I got that cake in my mouth. Unhinged my jaw like a snake and popped it in whole. And as the corners of the pyramid were scraped the back of my throat, I knew: I'm giving Rich a great New York memory here.

Rich: It was great. Definitely a highlight.

Caity: Then you said "I would still like to eat it,"

Rich: And so I did.

Caity: I gave you the piece that had been exposed to air rather than my oral cavity. I thought it tasted like a dessert that had been left on the kitchen counter while you were spraying disinfectant.

Rich: I guess I'm just into that.

Caity: The off-putting taste wasn't enough to stop me from eating the cake.
Check out the rest in Gawker's restaurant review series, "The Best Restaurant in New York Is…" here.
[Gawker]
Have a tip we should know? tips@mediaite.com