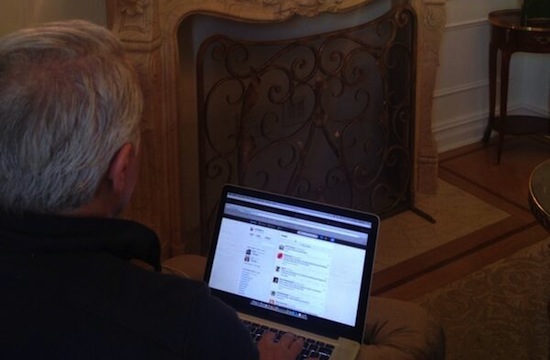 Well, that's one way to drum up support (and views) for the fledgling Food Network, isn't it?
But for real, we nominate Geoffrey Zakarian to be our social media director of life, just for being kind of amazing on the Food Network (and his own) Twitter during the premiere of The Kitchen. Because Zakarian is holed up in a Plaza suite (a good choice, on a freezing-as-balls day as it is in New York City), with a bottle of champagne, obviously having way more fun than any of us will ever be on a Saturday morning:
Getting ready to celebrate #thekitchen @FoodNetwork @ThePlazaHotel @veuveclicquot !! pic.twitter.com/DkfjFKBN2d

— Geoffrey Zakarian (@gzchef) January 4, 2014
Feeling like Eloise – mischief – just took over this twitter handle, watching from @ThePlazaHotel –@gzchef pic.twitter.com/qa1o2KhGoE

— FoodNetwork (@FoodNetwork) January 4, 2014
Taking over @foodnetwork twitter is awesome – thinking maybe I should post something crazy…. hmm…. #TheKitchen

— Geoffrey Zakarian (@gzchef) January 4, 2014
Sure, Zakarian was Tweeting out mostly cooking tips and rallying support for The Kitchen, but we do appreciate the few gem Tweets out there (that we're hoping were fueled by massive amounts of champagne). Zakarian, we like your sense of humor.
Don't sweat the gray hair @jeffmauro … It adds character ;) #TheKitchen – @gzchef

— FoodNetwork (@FoodNetwork) January 4, 2014
I say "go green for dinner" –@gzchef … But go for "bacon and ham at breakfast" @KatieLeeKitchen

— FoodNetwork (@FoodNetwork) January 4, 2014
[Editor's note: TRUTH.]
Rice as Nemesis. Dr Evil, Move Over! @JeffMauro @foodnetwork #autsinpowers #thekitchen –@gzchef

— FoodNetwork (@FoodNetwork) January 4, 2014
@FoodNetwork @ThePlazaHotel @gzchef is that the host from the hunger games

— Andrea Mungroo (@AndreaMungroo) January 4, 2014
[Editor's note: DYING.)
Show us your wiggle @JeffMauro #TheKitchen

— FoodNetwork (@FoodNetwork) January 4, 2014
[Editor's note: Love that he's basically spamming Jeff Mauro and the whole set at this point.)
Hey @jeffmauro the best things in life are tiny & precise! Just Iike my lovely wife @000mz :) #TheKitchen

— FoodNetwork (@FoodNetwork) January 4, 2014
New Ringtone: Butter Sizzling on a griddle. What does anyone else have crazy for their ringtone? #TheKitchen –@gzchef

— FoodNetwork (@FoodNetwork) January 4, 2014
I love speculos. Basically a cookie butter. Check out Waffles & Dinges food truck. –@gzchef

— FoodNetwork (@FoodNetwork) January 4, 2014
And the winner for the best interaction EVER on Twitter …
Yes @eliasholtz, love them in cocktails. Gin Fizz in particular. @FoodNetwork …and no gadget needed. #TheKitchen

— Geoffrey Zakarian (@gzchef) January 4, 2014
[Twitter]
RELATED:
WATCH: Geoffrey Zakarian Reveals His Libertarian Leanings in Reason Interview
Ja Rule to Geoffrey Zakarian: I Want to Write A Cookbook of 'Microwaveable' Prison Recipes
Geoffrey Zakarian Takes Over As Culinary Director Of The Plaza Hotel
Have a tip we should know? tips@mediaite.com