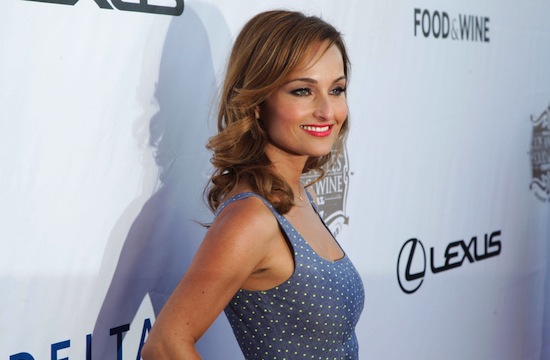 In today's girl power news of the day, Giada De Laurentiis is pumped to open her restaurant on the Las Vegas Strip — and rub it in her male comrades' faces.
The Food Network star talked to the Las Vegas Sun about opening her first-ever restaurant, facing new challenges, and knocking off her male chef frenemies down a peg or two. (Hardly the most controversial statement she's made lately.) So judging by who owns restaurants in Las Vegas, we're guessing that includes Wolfgang Puck, Bobby Flay, Emeril Lagasse, Nobu Matsuhisa, and Gordon Ramsay. Said De Laurentiis to the Sun, "… I picked the Las Vegas Strip where all the male food-world stars reign. I'm determined to show them that a female can be their equal, and knowing me I'll want to beat them at their own game!" Well, that does it then.
But to be fair, most everyone knows that De Laurentiis is in pretty solid hands for her restaurant ventures. Said Flay to the Sun, "She's going to win big in Las Vegas. She knows what she wants, and she's disciplined and dedicated to deliver it. She works very, very hard with her TV shows and her cookbooks, and I know she'll have the same energy and determination for her first restaurant." Kind words from her mentor, but De Laurentiis is still going to bring the heat to the mostly male lineup of chefs on the Strip:
I know that I'm the woman going up against a male-dominated Strip. I'm ready for the battle because this is the time. I'm very confident. I will bring a much warmer feeling with emotions to the dining scene. A woman's touch. This is the restaurant of my dreams.
Girl power, hooray!
RELATED:
Giada DeLaurentiis: 'I Truly Believe My Success Is Because of 9/11′
Giada de Laurentiis to Open First Restaurant in Las Vegas; Casino Announces It by Accident
Photo Flashback: 13 Celebrity Chefs In Their Childhood Awkward Phases
Have a tip we should know? tips@mediaite.com