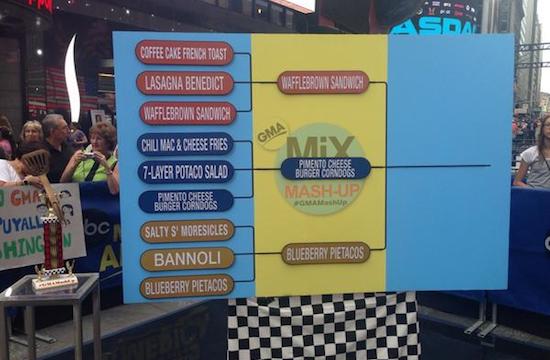 Seven-layer potaco salad? Blueberry pie tacos? Are we dreaming all of this up?
Because no one can resist riding the food trend zeitgeist more than morning television and your favorite listicle creator, Good Morning America paired up with Buzzfeed to bring the "Food Mix and Mash-Up!," a series of hybrid recipes created by Buzzfeed's editors. We will completely cop to the fact that if someone doesn't make us that Breakfast Waffle-Brown Sandwich (oddly reminiscent of a certain Taco Bell breakfast, dontcha think?) immediately we will go into hangry attack mode, but these are just too much.
But according to GMA voters, America really wants those pimento cheeseburger corndogs, made by Buzzfeed food editor Emily Fleischer. All of the recipes are on GMA's website, if you so dare.
Please enable Javascript to watch this video
Are you happy now, creators of Cronuts, ramen burgers and waffle tacos?! Do you see the madness you have unleashed unto the world?
At least Fleisher recognizes this all for what it really is: insanity.
Insanity wins! The trophy for @GMA's 3-day, 9-recipe hybrid challenge goes to these Corn Dogs http://t.co/ErZF3Y1J4R pic.twitter.com/j6cLTxeZIW

— Emily Fleischaker (@emofly) August 20, 2014
You voted all week, and the winning food hybrid of #GMAMashUp is… Pimento Cheeseburger Corndogs! Congrats @emofly! pic.twitter.com/3VxQi7qwa1

— Good Morning America (@GMA) August 20, 2014
[Good Morning America, Twitter]
Image via @emofly
RELATED: This Week in Food Crazy: Philadelphia Cheesesteak Egg Rolls and Pizza Pot Pies, Just No
Wisconsin State Fair Gives Us The Chicken and Waffle Cone and It's Glorious
Have a tip we should know? tips@mediaite.com