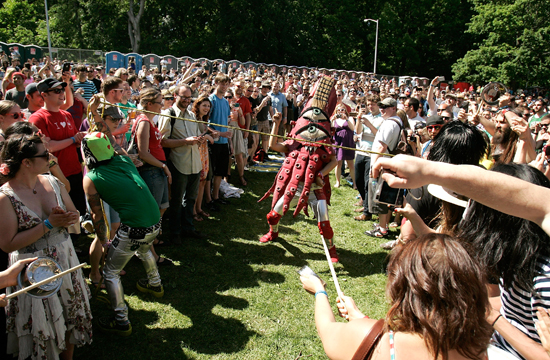 Are you a furious Brooklynite? Did you participate in the communally shared horrible experience of The Great Googa Mooga Festival this Saturday? Were you unfortunate enough to pay $250 for something everyone else got for free?  Well, you're in luck!
Time Out New York breaks the news that everyone who purchased tickets to ExtraMooga, the exclusive VIP event filled with free food and celebrity chefs, will receive a full refund, including credit card fees. As TONY curtly put it, the event "fell inexcusably short of expectations," and had suggested earlier this week that a full refund would help repair the broken relationship between Superfly Productions and angry festivalgoers.
"Our intentions were to do something great," said Superfly's Jon Mayers in an interview with TONY. "We were definitely ambitious. But we also wanted to do something top notch. We did not deliver on the promise we made for the ExtraMooga, and that's why we're going to make it right."
Though Superfly Productions managed to rally for a good Sunday showing, it still needed to make up to festivalgoers who paid $250 per day for an allegedly all-inclusive experience with free, "heaping plates" of food. That didn't happen, according to multiple accounts (though they all do note that without food, they got buzzed very quickly.)
"We do want to return to Prospect Park next year and create something that we, and the whole community, can be proud of," Mayers said in response. "We will be evolving the whole pricing model, and taking a look at what the ExtraMooga experience really is. Obviously we will be working to make sure there's enough food, and continue to work on the lines."
Hopefully a $500,000-plus refund from Superfly Productions will go a long ways towards smoothing things over.
Have a tip we should know? tips@mediaite.com