Kids Applaud Gordon Ramsay For Only Swearing Twice During MasterChef Junior Taping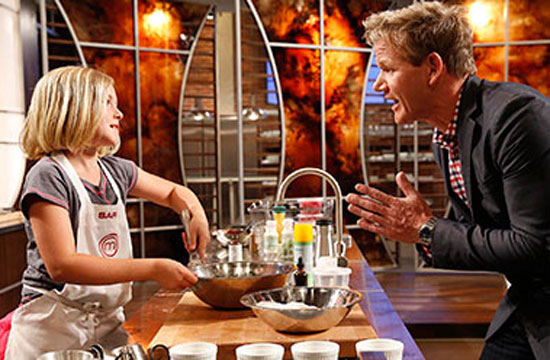 We were so very, very worried that the concept of Masterchef Junior (basically Masterchef with children between the tender ages of 8 and 13) would do nothing but make a bunch of child development therapists very, very wealthy. But if this AP report is to be believed, Gordon Ramsay actually served as — gasp — a nurturing, caring mentor and role model during the taping of the show, which airs September 27th. (WHAAAAAAAT.)
For instance: according to the adorable little children speaking to the Television Critics Association, the kids were sent home in pairs to "soften the blow" of elimination. They also received feedback and occasional, nice criticism from Ramsay ("I'm brutally honest and I think the kids appreciate that," he added), and learned how to swear:
"I don't think I swore once," Ramsay told the Television Critics Association on Thursday.

"Twice," corrected Gavin, a 10-year-old contestant from San Francisco, adding that Ramsay's cursing was directed at servers during a restaurant challenge, not the kids.

"We know the F-word means food," Ramsay said.
Wrong! Any jaded adult knows that the F-word mean "FAILURE and also YOUR SCALLOPS ARE RAW" (at least on Hell's Kitchen). But as precocious 9-year-old Sarah from Pacific Palisades, CA told the crowd, "He can't be really mean because we're kids." Astute observation, Sarah.
Joe Bastianich and Graham Elliot will also serve as judges alongside Ramsay, with Elliot taking on the role of Awesome Uncle and Bastianich portraying The Scary Dude.
[AP]
RELATED
MasterChef Now Casting For Children For Gordon Ramsay To Emotionally Destroy
WATCH: Gordon Ramsay Makes Math Tasty For Your Preschooler
Hide Yo Kids: Junior Masterchef Gets The Greenlight From Fox
Have a tip we should know? tips@mediaite.com