Gordon Ramsay Fails To Get US Version Of Gordon Behind Bars Picked Up By Fox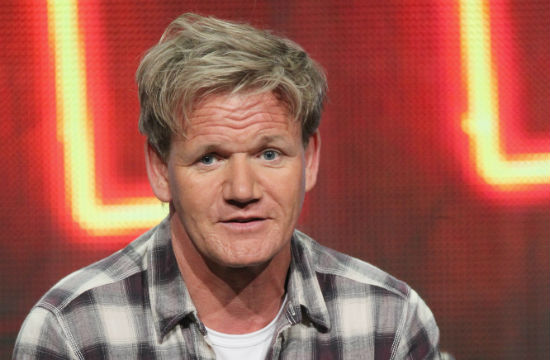 Fox passing on a Gordon Ramsay show? Unheard of. (No, seriously, the Ramsay-mania that Fox currently hosts includes four reality shows helmed by the shouty chef, with no less than four hours of Gordon in primetime slots per week.) But it looks like Fox exec Kevin Reilly is drawing the line at Hell's Kitchen, Kitchen Nightmares, MasterChef, and Hotel Hell.
Gordon announced a couple of months ago that he'd be shopping around his hit UK reality show Gordon Behind Bars, in which he builds a kitchen in a prison, and teaches non-violent criminal offenders how to work on a line, in an effort to bestow upon them valuable career skills for their integration back into society. Basically, it's crappy reality TV gold. But Fox passed on the show in favor of extending Hotel Hell by a few episodes. Really? "Less prison inmates, more roaches" is the programming choice you're opting for? Okay.
"We have a lot of Gordon on the air right now," Reilly told the New York Post, adding that Gordon was, however, contractually free to shop his show around other networks if he wanted to. Can we handle Gordon Ramsay on both Fox and NBC? Oh god, it'd be so eerie. It'd be like Simon Cowell judging The X Factor and The Voice. We shudder to think, and it appears Reilly has similar feelings.
"I'd be very disappointed if he ended up going across the street," he admitted.
How do you feel about a sprawling Ramsay empire?
[New York Post h/t GrubStreet]
Have a tip we should know? [email protected]