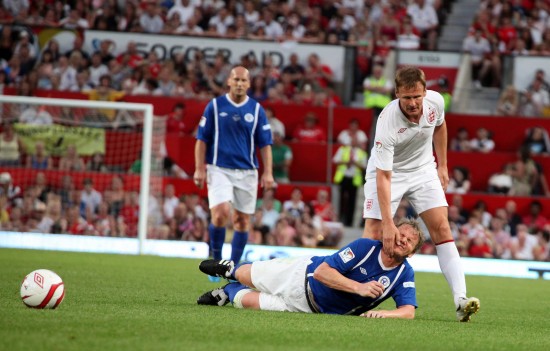 Yesterday during a charity soccer match held in England, Gordon Ramsay got bodychecked–real hard–by English  football (aka soccer) legend Teddy Sheringham and had to be carried off the field in a stretcher.
Five minutes into the Soccer Aid game, an event pitting British celebrities and football stars against stars from "The Rest Of The World" to raise money for UNICEF, Sheringham tackled the former pro-footballer-turned-celebrity chef so hard that Ramsay needed oxygen on the field before being taken to a hospital to treat what looked like a very painful back injury.
Thankfully, Ramsay seems to be doing well. "Thx 4 all the messages," Ramsay tweeted later, presumably to stop the Wikipedia jokes/rumors that he'd been killed during the match. "Out of hospital after receiving amazing care from medics at ground & hospital. Bit sore but fine Gx"
It seemed like injury plagued Team The Rest Of The World during the game (Ramsay is originally from Scotland and therefore part of The Rest Of The World. How Anglo-centric!). Things escalated quickly and comedian Will Ferrell suffered a leg injury in the second half after being tackled by British comedian John Bishop, but the Daily Mail reports that "the Anchorman star did manage to hobble off the pitch himself following the injury."
Other celebrities from The Rest Of The World included Gerard Butler, James McAvoy (both also Scottish!), Mike Meyers, Edward Norton, and Woody Harrelson.  Team England, who won the match 3-1 (figures), included event organizer and singer-songwriter Robbie Williams, and Awake star Jason Isaacs. The match is held annually and raised over £4million this year.
Have a tip we should know? tips@mediaite.com