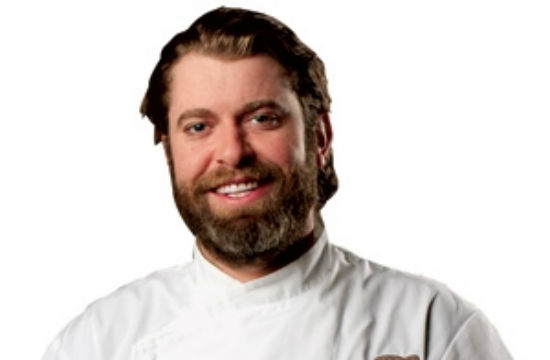 Remember that mysterious tweet Graham Elliot composed after news of his lawsuit settlement broke, advertising a job opening in the culinary brigade of his eponymous restaurant? Mystery solved, guys: his executive chef Andrew Brochu has left his post at the Michelin-starred resto.
Reportedly, there's been friction between Brochu and the servers and kitchen staff as of late, even though when he was first hired in January, Graham glowingly praised him as "the only guy in Chicago that could raise the level of the restaurant to where we want it to be, which is striving to [get] four stars."
For now, Graham is stepping in as the exec chef himself, until he hires someone new to run the ship along with corporate executive chef Merlin Verrier and pastry chef Bryce Caron.
Says Verrier of having Graham back on the line in his now-celeb glory, "It's great for everyone — kitchen staff, service staff and the customers. He's definitely a celebrity these days. It'll be exciting to have his presence back at the restaurant."
Graham released an official statement regarding Brochu's departure, announcing:
While Chef Andrew Brochu and I share a commitment to excellence in the kitchen, we've determined it mutually beneficial to pursue our professional objectives independently. Accordingly, chef Brochu has left Graham Elliot and I am now personally directing the restaurant's daily operations, assisted by chefs Merlin Verrier and Bryce Caron. We are excited to present our guests with a new autumn inspired menu next week, and wish chef Brochu continued success on his culinary journey.
That all sounds very civil. Now we're just waiting for Andrew Brochu to publicly blast Elliot, the establishment, and everything he stands for. (That is what happens next, right?)
[Eater]
Have a tip we should know? tips@mediaite.com