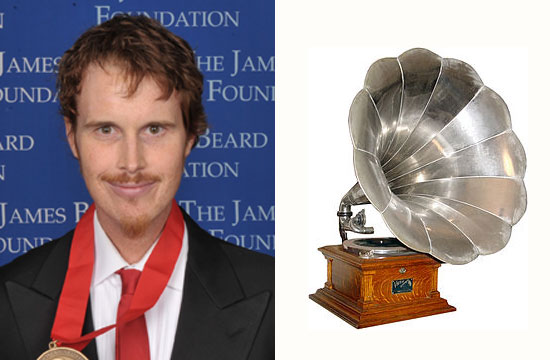 Last year, Grant Achatz invited The Wall Street Journal into his private domicile for one of those lifestyle pieces where they ask a chef what's in their home kitchen. The premise is simple: chef has fun toys and gadgets in his kitchen, everyone decides to buy the things chefs have in their kitchens because chefs are the experts, the celebrity chef beast feeds itself, etc. As Achatz recounted to Food Is The New Rock, though, readers ended up fixating on the oddest of his kitchen appliances: a gramophone.
Originally, the gramophone was supposed to be part of the decor for The Office, the speakeasy bar underneath his other bar (Aviary), but Achatz fell in love with the gramophone, eventually absconding with it and putting it in his kitchen at home. As soon as the world knew that Famous Brilliant Genius Chef Grant Achatz kept a gramophone in his kitchen, however, a "flood of people" started sending him free gramophone records.
"Obviously it was very unexpected, but then when it happened, I was like, 'This is great!'" he told the podcast. "And they're actually playable."
So there you have it, folks. What goes on in the mind of Grant Achatz? What makes this man a paragon of genius and talent? Apparently, having this soundtrack on repeat in your chef-mind:
Or, if gramophones aren't your thing, listen to the podcast by clicking the link below.
RELATED:
Grant Achatz Rebuilt His Own Damn Sexy Muscle Car
WATCH: Grant Achatz Performs Beautifully Choreographed Canned Soup Taste Test
Is It Just Grant Achatz, Or Did This Culinary School Gank Alinea's Chocolate Piñata?
Have a tip we should know? tips@mediaite.com