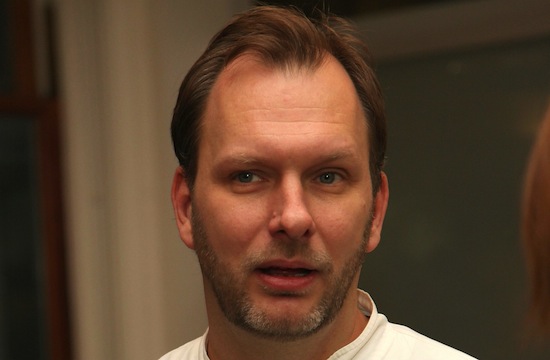 This Friday, the Big Apple chefdom is coming to the East End, and not just for tanning purposes. Eight NYC chefs will compete against eight Hamptons-based chefs at GrillHampton, a smoky, meatilicious battle sponsored by Pat LaFrieda to determine which locality's grilling skills reign supreme. Geoffery Zakarian plays host, and the winner will be determined by a panel of judges including FOOD & WINE Magazine editor Kate Krader, restaurateur Jeffrey Chodorow, and Dan Rattiner, Founder & Editor-in-Chief of Dan's Papers (the producer of the event).
The Hamptons, known to be a vacation hotspot for the rich and famous, might have food nobility under its SPF 30 gravitational pull, but the chefs with resumes full of camera-ready competition are playing for the city's team.
Put it this way: the NYC team is ribs and a baked potato that comes fully loaded, bacon bits, sour cream, scallions and all. You've seen Chris Santos of Stanton Social on Chopped, Nils Noren from Red Rooster was on Top Chef Masters, and Cliff Crooks competed on Top Chef season two. And for an extra side of sauce, Dan's Paper got veteran all-star chef Elizabeth Falkner, whose new restaurant Corvo Bianco, will open the following week.
The Hamptons menu team doesn't have the same name recognition — besides one guy who was on one episode of Throwdown with Bobby Flay one time. The East End chefs seem far more used to cooking for people on TV, rather than being on it. So don't worry if you haven't heard about them, the official website doesn't know them that well either — one chef's name, Emmanouil Aslanoglou, appears misspelled.
It's national talent against local sensations; the cast of Friends against that video of college kids reenacting the opening credits; the Looney Tunes with Michael Jordan against the Nerdlucks.
But the GrillHamptons Grill-Off won't be about camera angles or correct name spelling, just good ol' fashioned outdoor summertime cooking. So will these Hampton's chefs be able to hold their own against the competive likes Falkner & friends?
It's takes more than butter and salt to make a celebrity chef, but the GrillHampton competition seems pretty simple to us: no directors, no commercial breaks, just coals and hot metal. Straight cookin'.  Maybe an upset might make the night one worth to remember, because as somebody might possibility have said at one time, "Anything can happen in the Hamptons."
Zakarian told Departures magazine what will definitely be happening, "There will be great steaks, burgers and ribs, but think deconstructed steaks from Delmonico's of Southampton and dressed-up burgers like the French-onion-soup burger from chef Paul Denamiel."
For a mere $115 (the approximate price of a burger in the Hamptons), you can taste a bite of the competition, and vote on your favorite "grill bite" which may or may not have something to do with which team wins.
RELATED:
Is Tom Colicchio Breaking Into The Hamptons Hotel Biz?
10 Foolproof Grill Tips From Our Favorite Chefs
Jacques Pepin: Manly Grilling 'Doesn't Really Make Any Sense'
Have a tip we should know? tips@mediaite.com