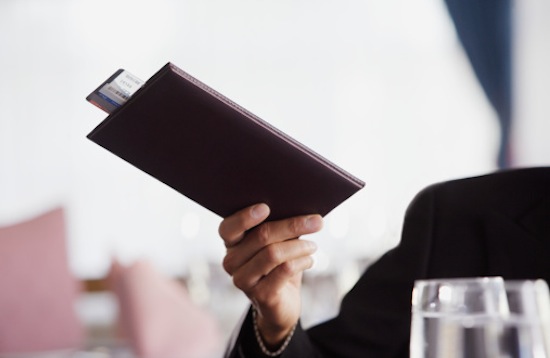 Every week the Grub Street Diet breaks down local celebrities' dining habits like a small intestine tell-all, and if you've ever wondered how fat a wallet it takes to fill Andrew Knowlton's belly with Prime Meats, whiskey and Cheetos, or hydrate Stephanie LaCava at Sant Ambroeus, The Braiser's doing the math to give you the skinny.
Ever wonder how deep the pockets are on Mark McNairy's polka dot chinos? The menswear designer spent little more than the cost of his pants on a week of dining out, racking up $249.26 on room service and Burger King.
Friday: $44.08
Two cups of home-brewed organic instant coffee from Whole Foods ($12.99); two Burger King value meal cheeseburgers, French fries, and Dr. Pepper ($4.60); free coffee at State Farm and espresso at the office ($0!); cherries, ($5.99); chicken vindaloo, papadum, and garlic naan from Mausam ($20.50).
Saturday: $60.16
Two cups of organic instant coffee and a bowl of Raisin Bran Crunch cereal ($4.99); French fries at Hooter's ($4.99), pickled okra and PB&J for lunch (est. $16.99); cherry lemonade (est. $3); espresso; Coke ($1), pepperoni pizza, Caesar salad, and Coke at Grimaldi's ($25.50); M&M's ($4.69).
Sunday: $33.27
Two cups of coffee and Raisin Bran Crunch cereal; large popcorn and soda at the movies ($15); ham roll at Mitsuwa (est. $8); espresso; chicken, black beans, tortillas for tacos at home ($10.29); M&M's.
Monday: $22.25
Two cups of coffee at home; chicken strips, mashed potatoes, biscuit and Coke at Popeye's ($9.29); espresso; chicken, arugula, tomato, onion, cucumber, feta, cilantro, and fingerling potatoes for dinner at home ($12.96); M&M's.
Tuesday: $41.50
Blueberry muffin at the airport (est. $5); Kobe hot dog, small Caesar salad and Coke at Red Hot ($9.50); one Coke at Lumpy's ($2), room service grilled ham & cheese and chocolate chip cookie ice cream sundae (est. $30).
Wednesday: $48
Room service from a Salt Lake City hotel, including a pot of coffee (est. $8), pizza and Coke (est. $10), room service steak frites (est. $30).
Costs, before tax, tip, and delivery, are based on Menupages.com, Seamless.com, and Freshdirect.com, and we hesitate to guess what gets comped and expensed.
Have a tip we should know? tips@mediaite.com