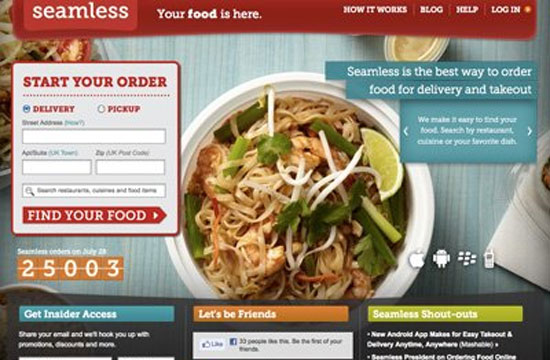 As proof that your laziness and inability to leave your desk for lunch is worth something, online food delivery services GrubHub and Seamless officially filed its plans to sell stock in the near future. (For the confused, the two companies merged last year, turning it into a food delivery behemoth.)
While rumors of a potential initial public offering floated around for months (we broke down the pros and cons of the company going public here), the company confirmed their intentions today by submitting their IPO plans to the Securities and Exchanges Commission. USAToday reports that details such as "When can I buy stocks in this company?" and "How much will this company actually worth when it goes public?" are unknown (par for the course, with companies submitting their first IPO filing), these facts will likely emerge as the date for the IPO draws near.
Unlike Twitter, which had its IPO last year, Seamless and GrubHub actually produce some sort of monetary value and is expected to sell well. You want a number? Okay, here are more numbers than you can imagine:
The Chicago-based company, founded in 2004, allows consumers to place delivery and pick-up orders with 28,800 restaurants in 600 cities. Last year, the company handled 135,000 orders, on average, a day with gross food sales of $1.3 billion for the year, according to the regulatory filing….

The company reported earning a profit of $5.6 million in 2013, a decrease from the $7.5 million it earned in 2012 and $14.9 million it earned in 2011.
[USAToday]
RELATED:
BREAKING: Seamless is Considering An IPO
WATCH: Danny Meyer Refuses To Put Shake Shack On Stock Market
WATCH: Gail Simmons Rings NASDAQ Opening Bell To Celebrate Impending End Of Top Chef: Season 10
Have a tip we should know? tips@mediaite.com