Alex Guarnaschelli on Her Mentor, Bobby Flay: 'He Gave Me a Real Kick in the Ass'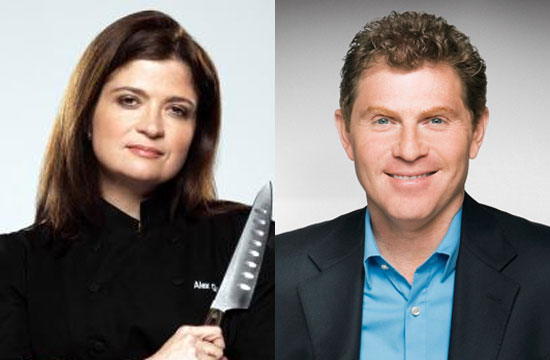 You may have to listen to a sobering speech by comedian Marc Maron about, well, being sober for 14 years, but eventually you'll hear the ethereal, fairylike voice of Alex Guarnaschelli on his latest WTF Podcast, where the two discuss her culinary education, her new tenure as an Iron Chef after winning the title in that reality series, and her surprise "guru on a hill": Bobby Flay.
While Guarnaschelli's had many mentors in her ascent to food media superstardom, she said she was most surprised by Flay's mentoring style as he shepherded her through the weirdness of the Food Network and Iron Chef: America. "He gave me a real kick in the ass," she recalled. "'I'm not really drinking your Kool-Aid, I'm not impressed. Cry all you want on my rug, just don't stain the couch on the way out.'"
But he's not always so, so cold — especially when supporting her as a Real Iron Chef, a goal she's had since the original Japanese show inspired her generation of chefs:
I went into Bobby Flay's office after the first time [I competed as an Iron Chef] and went, "I'm not going to do this again. I don't have to do this again." But you know, when you turn yourself in to the Food Network Police, you know what kind of response you're gonna get — he says, "You should do this for you! For validation for yourself! You should really go at this for yourself and try to win it." And you know what, there's just no other reason than that.
You can listen to the full podcast here and wonder what it would be like for Bobby Flay to be your mentor, a good cop and bad cop rolled into one Mexican/Irish elf. Bobby Flay: a man of duality.
RELATED:
Tonight In Food TV: Bobby Flay Bans Food Network Stars From Using Dumb Words To Describe Food
WATCH: Food Network Star Wannabe's Back-Talk Horrifies Alex Guarnaschelli
WATCH: Alex Guarnaschelli Dominates Her First Iron Chef: America Showdown
Have a tip we should know? tips@mediaite.com