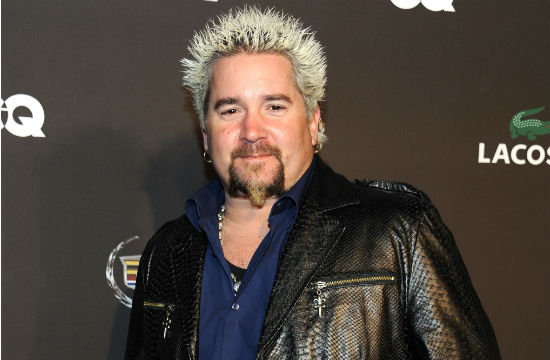 We've already told you we think Guy Fieri is as awesome as the "Awesome Pretzel Cart" he started when he was in middle school. You don't have to agree with us. We don't care, and he doesn't either. Today, Success Magazine came out with a profile on Fieri that showed him not as the animated host of Diners, Drive-Ins and Dives or as "fodder for late-night talk show jokes" but as a person with feelings, and a life, and with friends and family who love him. He also has restaurants, books, and several television shows, but those are only part of who he is. Here's what we learned about him:
1. He knows what he's doing in the kitchen.
On most of Fieri's shows, he's not the one who is actually cooking. And, as we all remember (#neverforget), his restaurant Guy's American Bar & Grill has been the subject of some pretty terrible reviews. But Fieri definitely knows what he's doing in the kitchen. Of his knife skills, Michael Mooney writes:
"He chops so fast, it's just a blur of steel and squash, with slices falling off at machine-gun pace. When he's done, I notice that the other people standing around watching are impressed, too, like he just performed a magic trick with a lethal weapon."
Fieri also stressed the importance of salt and pepper, freshly squeezed lemon, and the importance of eating local and organic when you can. In fact, most of the vegetables he uses in his cooking are from his own garden. When Mooney was there, Fieri made pizza for lunch, and Mooney said it was "almost certainly the nicest lunch" that he had ever had a hand in making. The reviews from other diners were positive as well.
2. His friends and family knew from the get-go that he was destined for stardom.
When he was growing up, at family dinners, "young Fieri was always the entertainment. He'd tell jokes or stories with over-the-top descriptions and big gesticulations. They told him they thought he'd be in movies or on TV one day." Years later, restaurant customers, friends, and family had noticed his potential, and his friends got him to submit an audition tape for Next Food Network Star. On the video, he looked similar to how he does now. He made a sushi roll stuffed with pork, avocado, and a french fry, a dish he called the "Jackass Roll." He ended the video by saying, "My name is Guy Fieri. My friends call me Guido. You can now consider me your friend." In the video, he said his mission was "real food for real people," something that hasn't changed despite his incredible success and fame. His personality isn't an act. He's always been genuinely himself. He submitted the tape in the last week before the deadline, and booked the job. He won the competition, and his first show, Guy's Big Bite premiered a few months later.
3. "His only two goals in life were to own his own restaurant and to be a good father."
Spending time with his children, Hunter and Ryder, is his top priority. In his latest business venture, he has them in mind as well. He's recently developed high-end wine that retails for $45-$75 per bottle, which seems a bit off brand. But, because their names are on it (the label is called Hunt & Ryde), he says, "makes it one of the most important things [he's] ever done." He hopes someday to leave the business to them.
4. All of the hate gets to him sometimes- he's only human. But he's not going to change who he is for Anthony Bourdain, Pete Wells, you, or anyone else.
For Guy Fieri, being Guy Fieri is pretty great. He likes who he is, even if you don't. He said:
If I probably didn't have tattoos, or if I probably didn't bleach my hair, or if I probably didn't wear blue jeans and a T-shirt to fancy things, if I didn't do things that make me look like someone who's whacked out of their mind, it'd probably be different. But then again, that's how I wanna dress. And I like my tattoos. And I like my hair cut the way it is.
Plus, he said the hate is silly anyway. He estimates that 90% of people who hate him can't even say why. So he asks, "What am I supposed to do? Am I supposed to stop being me? If someone boos a quarterback, does that mean he stops throwing his favorite pass?"
Nope– you keep doing you, Guy Fieri.
Fieri appears on the cover of the June issue of Success, and the story is inside. The full profile can be found here.
[H/T Success]
Have a tip we should know? tips@mediaite.com