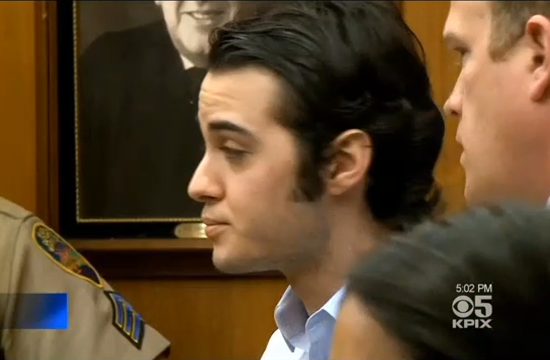 Max Wade, the 19-year-old California teenager who stole Guy Fieri's Lamborghini in 2012, was sentenced to life in state prison today — not for the Lamborghini theft, mind you, but for the attempted murder of his ex-girlfriend's then-boyfriend.
CBS News reports that Wade, who was a juvenile when he committed these crimes but was tried as an adult, will serve three consecutive sentences: his life sentence, a 20-year sentence for the intentional discharge of a firearm, and 16 months for stealing Fieri's Lamborghini (which is the only crime we care about here). Wade has already served 731 days in prison, which means he only has 23,359 days to go! (We'll be waiting for you, Wade.)
To remind people what happened in this lovely tale: once upon a time, Wade got mad at his girlfriend Eva Dedier, who was stepping out with a lothario named Landon Wahlstrom. So he stalked them on a motorcycle, drove up to the truck they were both sitting in, and attempted to shoot them dead. (Wade was acquitted of the attempted murder of Deider.)
Though Wade is essentially screwed for the rest of his life, there was no mention of any charged filed against his dumbass friends, who attempted to break him out of prison in a heist straight out of a comic book. The Lamborghini in question has been recovered and, by all accounts, has attempted to move on with its life.
We'll miss you, Wade — you were the best idiot we've ever covered. (Also, you gave us this picture of Guy Fieri.)
[CBS]
RELATED:
Everything You Need To Know About Guy Fieri's Stolen Lamborghini
Guy Fieri Lambo Update: Prosecutors Call For More Charges Against Teen Thief
Guy Fieri's Lamborghini Thief Claims He Cannot Get Fair Trial Due To Notorious Reputation As An Idiot
Have a tip we should know? [email protected]