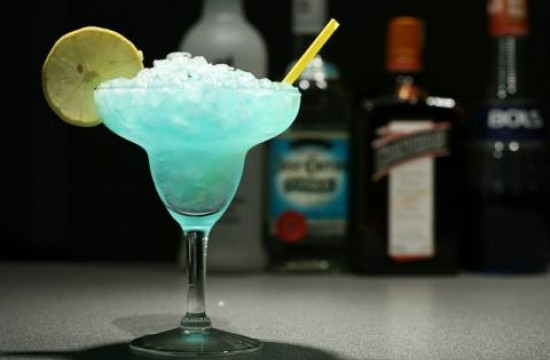 A quick timeline of the Wells-Fieri wars: On Wednesday, The New York Times published Pete Wells's review of Guy's American Kitchen and Bar. Yesterday, Guy Fieri went on the defense, calling Wells an elitist with an agenda (in so many words), as well as spilling the beans on what was perhaps the most awkward party in the history of food media. Both sides refused to back down, and would never capitulate to either party's demands/values — or so we thought.
When they went to see what the hubbub was about, Hollywood.com discovered that Guy's American Kitchen and Bar had quietly removed the watermelon margarita, one of Pete Wells's biggest disappointments on the drink menu, possibly forever. Because honestly, it had to go after this memorable description:
Hey, did you try that blue drink, the one that glows like nuclear waste? The watermelon margarita? Any idea why it tastes like some combination of radiator fluid and formaldehyde?
Though the Hollywood.com writers settled for the Jalapeño Margarita, "which for a drink decorated with fresh, sliced peppers around the edge and a few floating among the cilantro in the cup, was remarkably mild," they reported a surprisingly okay meal. This leads us to wonder whether the management at Guy's American might actually be taking the word of the New York Times restaurant critic seriously. We know, shocking. Right?
Email tips at thebraiser dot com if you've noticed any of the following items removed from the menu at Guy's American Kitchen and Bar:
Chai tea
Marshmallows
Awesome Pretzel Chicken Tenders
Fried Lasagna Noodles
Emily Dickinson Roasted Pork Bahn Mi
[Hollywood.com via Eater]
Have a tip we should know? tips@mediaite.com