Is Guy Fieri's New Year's Eve VIP Package Even More Expensive Than the Year Before?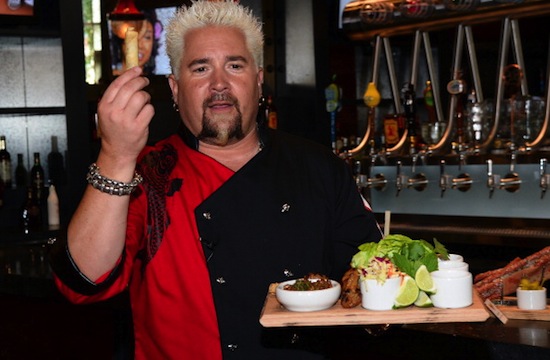 If you thought $795 was too much to drop on a very Guy Fieri New Year's Eve with your boo, just wait until you see what the price is this year.
Feeling nostalgic over the hilarity that was last year's VIP couple's package at Guy's American Kitchen & Bar in Times Square, we checked the price tickets again for this year. The same website as last year, Balldrop.com, advertises most of the same sh*t we saw last year (including the American flag walls — what is it about those American flag walls?), but check out those prices.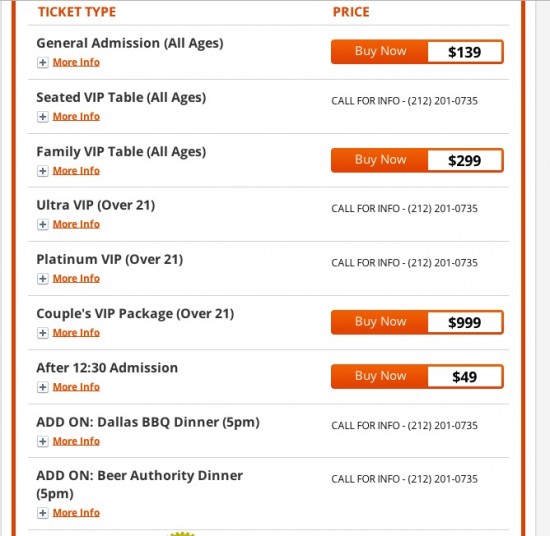 Though we can't be 100 percent certain, we're pretty dang sure it's the same exact deal as last year — right down to the cheese plate, "vegetarian California egg rolls," and "bourbon brown sugar wings." What else comes with such a pricey VIP package for two?
Open bar from 7 p.m. to midnight (the ONLY part giving this deal any sort of rhyme or reason)
Appetizers again, from that same buffet with all the other ticketholders (who also pay more this year — it now costs $139 just to get into the party for general admission, up from $105 for New Year's Eve 2014)
(1) bottle of champagne
Midnight champagne toast
"NYE party favors"
An additional fee for coat check
Not included: gratuity.
Not listed on Balldrop.com's website, interestingly, are how much those "ultra VIP" and "platinum VIP" tickets cost. The same tickets just include bottle service for groups, so we've reached out to Balldrop.com to find out the prices and will update when we know.
So we couldn't be accused of singling out Guy's American Kitchen & Bar for its absurdly high prices, we checked around other Times Square deals using Balldrop.com. And to be fair, you can get the same hot sh*t appetizers and sh*t well drinks served to you by Ruby Tuesday's, Bucca di Beppo, and Planet Hollywood and spend more than $300 per person. At least Guy's American Kitchen starts low and ends in New York City rent-esque prices. (Seriously, we should know.) You can get two tasting menus at Masa, the most expensive tasting menu in all of New York City, for $900 (before tax and gratuity).
Either way, Guy's American Kitchen jacked the prices once again for New Year's Eve, hoping we wouldn't notice. Oh, but who could let 2014 slip by without a true Guy Fieri New Year's Eve experience?
Oh wait, Fieri won't be there. Carry on.
[Balldrop]
Have a tip we should know? tips@mediaite.com