Our Favorite Parts From Guy Fieri's Press Release Announcing College Restaurants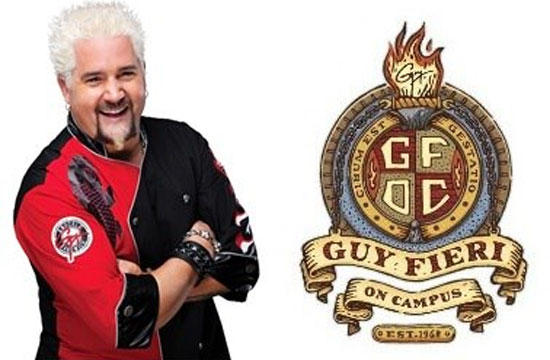 We didn't have to go far into this press release from Guy Fieri and Sodexho to realize that, no kidding, this really is an announcement that Fieri is teaming up with the international food conglomerate to open a chain of restaurants on college campus across the country. Here's what you can expect from the newly-minted Guy Fieri On Campus empire:
GFOC's awesome menu includes a broad selection of sandwiches, pasta, tacos, quesadillas, rice bowls, salads, soups and burritos. Another highlight is a full offering of appetizers, sides and snacks including Guy's famous Vegas Fries, a rockin' recipe inspired by Guy's college days featuring extra crispy spuds tossed in buffalo sauce and served with a side of bleu cheese. There's definitely no room for boredom at GFOC, so diners will also be able to try sea salt fries or garlic fries with parmesan.
There's also the obligatory quote from Guy Cooler:
"I'm totally psyched about Guy Fieri On Campus. This is my style, my recipes and what I wish I could have had when I was in college," said Fieri. "I've definitely learned a lot about what people like to eat in my travels across the country, so you know this food is going to be on point."
All snarking aside, this is a huge gold mine for Sodexho and Guy Fieri, because everything on this menu sounds exactly like what a college student would want to eat late at night after, uh, studying about herbal remedies. It's not like a student from Montclair State University (which gets the first GFOC restaurant) can easily hop in a car and go to Roberta's when they get the munchies.
[MarketWatch via Eater]
Have a tip we should know? tips@mediaite.com