Guy Fieri Reveals His Style Orgins, Or, Everything You Never Needed To Know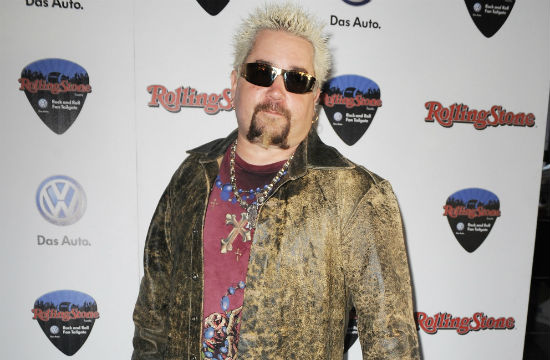 It's true: Food Network Star's most recognizable alum has his uniquely terrible style to thank for his success. His "greaser meets beach bum style" (as kindly-dubbed by the NY Post) contributed hugely to his "package," and, thus, a definitively-branded Food Network Star was born.
In a recent chat with the Post, Guy revealed the origin story behind a few of his most iconic style traits. We feel like we're making the ladies at the next desk over cringe just by running this, but you, dear readers, will appreciate it.
On his signature peroxide spikes, not to be confused with current FNS contender Michelle's or fellow Food Network host Anne Burrell's:
"I had long hair, and the girl that cut my hair in California said, 'It's about time you make some style change.' I said, 'Fine. Do whatever you want.' So we get done and she takes the bag off my head, and I'm like, 'Did you wash the shampoo out?' And she's like, 'That's your hair color.' I go, 'What have you done? I'm a dead man!' But it just stuck."
Did you know Guy has been sporting Gatorz sunglasses for so long that they now carry his logo on the side of them? Reveals Guy of his eyewear obsession and unique storage habit:
"I own 120 pairs of sunglasses. I wear them all the time, but I'm not a sunglass cord kind of person. I could fold them in my shirt, but if I go to stir something in the kitchen, then whoop, where did they go? And I don't want to wear them on top of my hair — then they get [hair] wax on them — so one day I just put them on the back of my head. There was no real design about how it all came about."
And what about those terrible flame shirts? "Omg," Guy began. Really? Guy said, "Omg"? Like, he spelled it out? Okay then. So, shirts:
"Omg. A buddy of mine bought me a Robert Graham shirt for my birthday seven or eight years ago. Anytime I wore it people would go, 'Where did you get your shirt?' I can't just wear a plain white shirt. It's gotta have something going on — just the little subtleties make such a difference. The showroom will just blow your mind. You think you've seen it all, and then suddenly they're bringing out some gnarly suede leather jacket with skulls and lightning bolts. But they make it look cool."
But they make it look cool. The way Ed Hardy makes rhinestones look butch, or Affliction makes eagles rad, right?
Right.
Have a tip we should know? tips@mediaite.com