Guy Makes Kickstarter for Bacon-Wrapped Pork Gator Turducken, Fails Miserably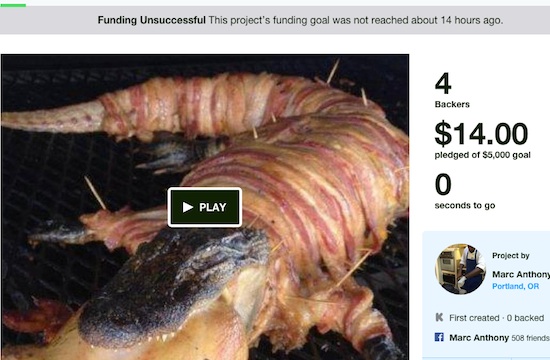 So you want to host your own Thanksgiving party for your friends (you know, Friendsgiving) and think to yourself, "Hm, how do I feed many mouths with delicious food?" You don't usually think to yourself, "AHA! A turducken … stuffed in a pig … stuffed in an alligator … and then just wrap that sh*t up in bacon."
Yet that's what one chef in Portland, Ore., thought to do for his own Friendsgiving.
In 2013, Portland Oregon was the most moved to city in America. Not I, but many of us will be spending our first thanksgiving away from our families. I want to do something memorable for those of us who won't be going home for the holidays. I'm calling it Orphan Thanksgiving. It will be a party.
And he started a Kickstarter for it. And even Sam Sifton was like WHATTTTTTT.
Jeepers! https://t.co/KN53AV4fSP

— Sam Sifton (@SamSifton) November 18, 2014
One slight problem: Only four people gave him money. $14 total. His goal was $5,000.
Sorry dude, but a bacon-wrapped gator-pig-turducken-whatever just isn't what people want to eat on Thanksgiving. Or ever. (At least potato salad is like, delicious.) Just because you're inspired by the folks at Epic Meal Time means that it should be done.
Just when we thought we had seen every Thanksgiving food mash-up like, ever, we were so wrong.
RELATED: Don't Worry About Anything, Because There's a Hamster Eating Thanksgiving Dinner
Turkey Day Apocalypse: The Absolute WORST Thanksgiving Food Hybrids of All Time
Martha Stewart's Wins Best Gwyneth Paltrow Dig With 'Conscious Coupling' Spread
Have a tip we should know? tips@mediaite.com