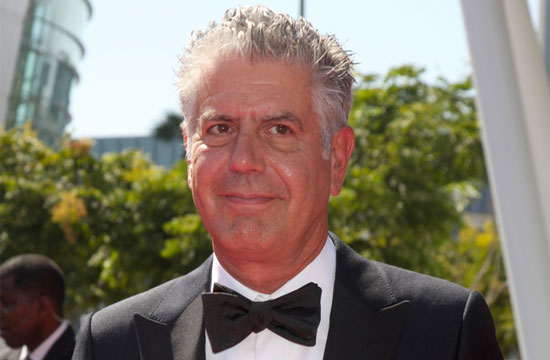 Happy birthday, Anthony Bourdain! One of our favorite chefs is turning 60 tomorrow, and to celebrate, we're taking a look back at our coverage of him. Since we launched in 2012, we've written a LOT about him. He was actually our first interview way back when. He's always outspoken, funny, and generally speaking the truth.
We dug into our vault and pulled out some of our most popular posts on Bourdain for this Flashback Friday. We hope you enjoy!
Let's do this:
– Bourdain's America: 9 Of His Best Quotes About The U.S.A. July 4th, 2013, by Laura Norkin:
In which Bourdain declares Paula Deen America's "most dangerous person."
– So About That Time Anthony Bourdain Did Drugs… November 10th, 2014, by Marcy Franklin
In which we recount Bourdain getting real on an episode of Parts Unknown that took place in his hometown in Western Massachusetts. He talks about his battle with heroin:
The first time I shot up I looked at myself in the mirror with a big grin. Something was missing in me, whether it was a self-image situation, whether it was a character flaw… There was some dark genie inside me that led me to dope… Anybody could find themselves very easily in that situation. I looked in a mirror and I saw somebody worth saving or I wanted to at least try real hard and save. I look back on that and I think about what I'll tell my (seven-year-old) daughter. That was daddy, no doubt about it. But I hope I'll be able to say that was daddy then, this is daddy now. That I'm alive and living in hope.
– So, Anthony Bourdain And Alton Brown Walk Into A Strip Club… October 4th, 2012, by Tina Nguyen
In which Anthony Bourdain and Alton Brown go to Atlanta, and go to the Clermont Lounge, the oldest and most legendary strip joint in the city.
– Anthony Bourdain On Why The Best Celebrity Chefs Just 'Don't Give A F*ck' May 13th, 2012, by Verena von Pfetten 
In which he declares, "If you're a member of the Screen Actors Guild, I think you pretty much gotta stop using the term chef." The second part of the interview can be found here.
– Anthony Bourdain's Travel Advice: Avoid Unsanitary Panini Express at JFK Airport May 15th, 2012, by Tina Nguyen
In Which Bourdain live tweets a PSA from JFK Airport about ringworm.
– Anthony Bourdain's Top Five Insults to Fellow Celebrity Chefs January 24th, 2016, by Bianca Torres
In which we recall this gem, hurled at Sandra Lee: "So you're talking someone that's as stupid and talentless and messed up as Britney Spears cooking?"
– Anthony Bourdain Says Do Not Commit These Seven 'Crimes Against Food' May 20th, 2016, by Dana Eisenberg
In which we learn not to eat Kobe Beef, ever.
– Anthony Bourdain Hates Billy Joel, Eric Ripert Rushes to His Defense July 6th, 2012, by Mariella Mosthoff
In which we learn that not everyonewants the Piano Man to "sing us a song."
– Anthony Bourdain Rattles Off His Best Travel Channel Show Ideas On Twitter After Guinness-Gate
In which we got this gem:
#GhostWaterslides! #HauntedBacon! #BurgerImpossible!#highconcept #TravelChannel #AmericasBestParkingLots!

— Anthony Bourdain (@Bourdain) January 8, 2013
Happy birthday, Anthony Bourdain! Don't ever change.
–
Have a tip we should know? tips@mediaite.com