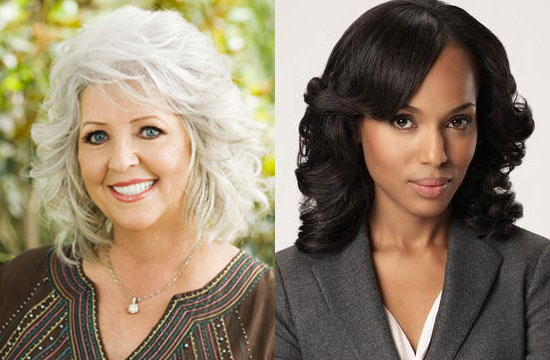 Page Six just came out with the most head-exploding rumor that we're madly trying to confirm at the moment (UPDATE: Us Magazine confirms) : Paula Deen, who just defended her racially-charged statements to the world with "I is what I is and I'm not changing," has reportedly hired Judy Smith, the renowned crisis management counselor who inspired the hit ABC show Scandal. 
Smith, played by Kerry Washington on the show, is a former White House deputy press secretary whose resume at Smith and Co. includes managing events involving the likes of Monica Lewinsky, Michael Vick, and a post-oil spill BP, according to Politico.
It would seem that a few errant n-words should be easy for the African-American Smith to handle, if it weren't for the fact that her (maybe) client is a very obstinate Paula Deen. (Smith should really read the testimony of Deen's former publicist.)
If this is true (and remember, Deen's scandal broke in a National Enquirer story, so anything freaking goes at the moment), Smith has a lot on her plate: Deen's already released three erratic apology videos and canceled a Today Show appearance (and didn't really provide a good reason for skipping out on Matt Lauer). Moreover, if the media buzz is true and Smith was hired yesterday, Deen's obviously not listening to her, because the apology from this morning made absolutely no sense. In case you missed it, watch it again below.
We've reached out to Smith and Company and will update if we hear anything.
[Page Six]
RELATED:
WATCH: Paula Deen's Exclusive Today Show Interview
Paula Deen Sponsorship Watch: Who's Firing Her Or 'Monitoring The Situation' (UPDATE)
WATCH: Paula Deen Reacts To Food Network Firing, Anderson Cooper Grills Her Former Publicist
Have a tip we should know? tips@mediaite.com