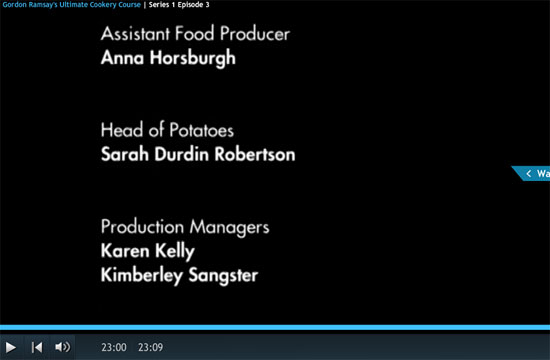 While watching Gordon Ramsay's Ultimate Cookery Course last Saturday, Reddit user CoolAppleCider found his life calling. "Was watching a cooking show," he wrote. "Found a career."
The job of his (and our) dreams? "Head of Potatoes."
The internet's collective desire to find out more about this job propelled the post to the front page, as did questions about its holder, Sarah Durdin Robertson: what does a Head of Potatoes do? How does one become a Head of Potatoes? Can someone become a Head of Lettuce? Can you keep her accessories in her butt?
So we did a little Googling. Sorry, Internet, but the position of Head of Potatoes involves a lot of non-potato work.
In an interview with The Knowledge, Robertson described her job as being similar to an executive producer, except more "hands-on" and more food-oriented:
Straight' historical docs, magazine shows, ob docs, entertainment or factual programmes are a challenge as they require a lot of hard work to produce. To make food-related versions of these types of shows just makes it even more complicated. Food adds another dimension to a production so you have to go the extra mile and it's impossible to do that without the right team.
Do you want to become a Head of Potatoes, too? You can either follow Robertson's advice, which requires "a love of food with good kitchen skills (a cookery course or two would serve you well)," or chop your body up into inch-thick pieces and bury yourself in well-drained, loose soil, then harvest in 10 weeks. Boom. Dream job.
[Reddit]
RELATED:
Paul Gerard: Culinary TV 'Ruins The Business', Paula Deen's Racism Is 'Not Surprising'
Top Chef Production Team Once Shot Food Porn In A Public Bathroom
Andrew Zimmern Reveals Why He's 'The Luckiest Person In Food Television'
Have a tip we should know? tips@mediaite.com