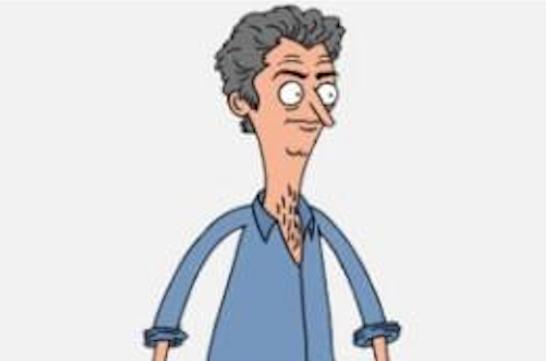 A striking resemblance, no?
Turns out that foodventurer Anthony Bourdain is going to play, well, a foodventurer on the Nickolodeon cartoon Sanjay and Craig next year. The plot, as the New York Post tells it, is that TV host "Anthony Gourmand" seeks the best food for his tv show "Foodventurer" in the hometown of Sanjay (human boy) and Craig (snake). Slight problem: Anthony Gourmand thinks that the best food will be a snake, therefore putting Craig in his line of hungry, hungry vision.
Bourdain talked about the cartoon in the most Bourdain way possible:
"I'm a mega fan of 'Sanjay and Craig.' I've seen absolutely every episode," says Bourdain via e-mail. "This is a show I wish had existed when I was a kid. It has all the elements that I looked for in my childhood for entertainment and was deprived of — stinky stuff, farts, toilet humor, gross stuff. Awesome."
True, every adult male needs farts and toilet humor in their cartoons. The episode will air next year. Meanwhile, can we talk about how accurate this cartoon version of Bourdain really is? Down to the jeans and all (except for the earring).
Important: cartoon @Bourdain http://t.co/tSF0uxRXLx pic.twitter.com/ksFyrIew0L

— Brian (@BrianPinDC) November 5, 2014
RELATED: Bourdain Comes Back to the Iran Haters: 'Guess We Shouldn't Show People … Anywhere We Find the Policies Repugnant?'
Here's the Sneak Peek of the Much Talked-About Iran Episode of Parts Unknown
The Newest Food TV Shows We're Talking About
Have a tip we should know? tips@mediaite.com