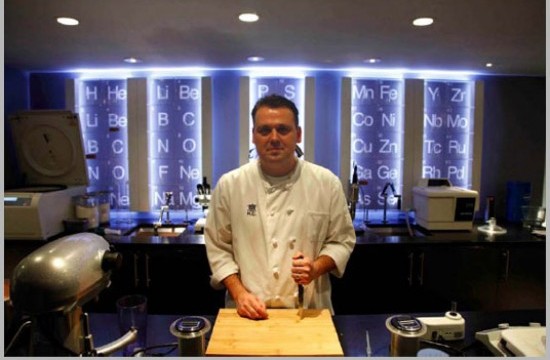 Why did you make us sad, Homaro Cantu?
We're not being snarky or cynical in this post, because when the famed chef of moto posted the latest chapter of his online Facebook memoir, entitled "Did I ever tell you about the worst meal I ever ate?", we expected — as most people who love reading food reviews would — that he might tear apart a restaurant or a certain chef, dismissing someone's failed attempts at cuisine with sassy flourish.
But Cantu sucker-punched us with an anecdote about a truly horrible meal from his childhood. Not just because food itself sucked, but the circumstances surrounding the meal are just heartbreaking. Here's an excerpt, and in here you can start inferring a lot about Cantu's vagrant childhood:
My mom built a fire and put the steelhead on some sticks over the fire. We didn't see her cook very often. We moved around too much and we were always playing hide and seek from Dad. The fish smelled weird. Like it was on fire. She flipped it over and put it on one of those paper plates with all the writing on it … I think it's called newspaper. Eddie popped open a can of beer and a can of beans. In that order. He liked beer. So did my mom.
And as a testament to how much a bad memory can influence one's taste, Cantu noted at the end, with some irony, that he invented a polymer oven specifically to cook fish perfectly: "I still don't care for fish but if I have it, it has to be perfect."
Excuse us, we've got to deal with some serious feelings.
[Facebook]
Have a tip we should know? tips@mediaite.com