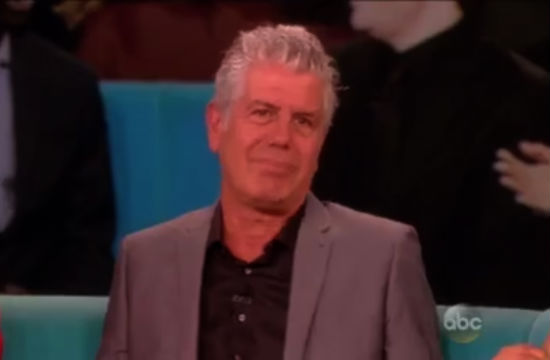 A few months ago, we learned about Anthony Bourdain's awesome deal with his part-time assistant, a mom who telecommutes while raising her son at home, and we were all, "Dang, that is a sweet gig and Bourdain is awesome for doing that, especially with the massive public debate over maternity leave. How does one get that job?"
In an essay for Billfold, Laurie Woolever describes how she got the gig — and it's a circuitous, long path. Starting as an intern at the Brooklyn Botanical Gardens, Woolever's career involves stints in culinary school, PR, nannying, private catering, food writing, and working as Mario Batali's assistant for three years, not necessarily in that order.
And while it's hard being a writer in New York (duh), it's even harder being a full-time food writer and a mom, as she learned in her days at Wine Spectator:
I spent just over two years as full-timer, during which time I got married, bought an apartment in Queens, and got pregnant. I took a 12-week maternity leave, half of which was paid, then put the baby in daycare ($175/week) and returned as a part-timer, working four days a week, giving up 20% of my salary and going on my husband's health insurance. I did basically all the work I'd been doing as a full-timer, and would often check in from home on my day off.

After a few months, one of my colleagues got pregnant, and, in trying to strategize her own post-maternity leave return, asked for the part-time deal that I had, at which point management pulled the plug on my deal and said I could either work full-time or not at all.
Thankfully, her part-time gig with Bourdain blossomed into a well-paying, five-year-long stint with the CNN host, which she still does to this day. "I've taken on more responsibilities and my pay has increased accordingly. Almost all business is conducted by email; we interact in person maybe twice a year. I've edited two books for his imprint, and accompanied him and his crew on a recent TV shoot in Vietnam. I feel extraordinarily lucky."
These types of things need to happen more.
[Billfold]
Have a tip we should know? tips@mediaite.com