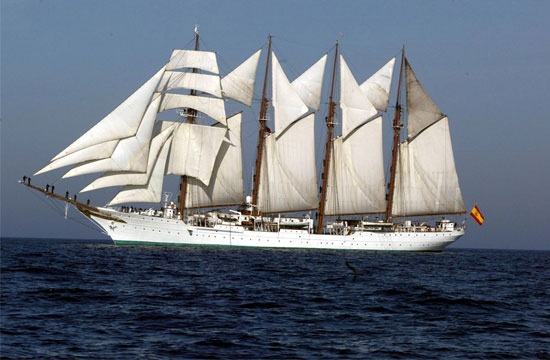 Once upon a time when he was but a lad, Jose Andres served his compulsory military service in the Spanish Navy after spending time cooking at El Bulli. Naturally, being a talented young chef, he was asked to stay on shore and cook fancy gourmet food for the admiral, like many other talented young chefs in the military have done in the past — but he wanted, instead, to sail as a crew member of the Juan Sebastián Elcano, the third-largest tall ship in the world.
"Then they tell me, 'You can't go on the ship, because you're the best cook here and you need to cook for the admiral,'" he recounted to the Wall Street Journal. "At the admiral's residence, I had my own apartment with my own bathroom in a magnificent house, decorated in the old Spanish style, very Rococo…It was a paradise."
However, very few people on Earth would choose a fancy apartment over the promise of sailing on that ship, and towards the end of his compulsory service, Andres made a request:
 I went to the second in command and cornered him: "Sir, I would give anything to be on that ship," I told him. The only way to get this assignment was to sign on for two extra months, so I am one of the only crazy bastards to sign on for two extra months of military service.
And from there on, Andres spent six months having crazy nautical adventures, climbing topsails, swabbing decks, falling from crow's nests and nearly killing himself, meeting lusty wenches in exotic harbors like Brazil and Pensacola — essentially living a pirate life, without all the pirating.
The Collected Oral History Of Jose Andres's Sea Shanties And Maritimes can be found below.
[WSJ.com]
Have a tip we should know? tips@mediaite.com