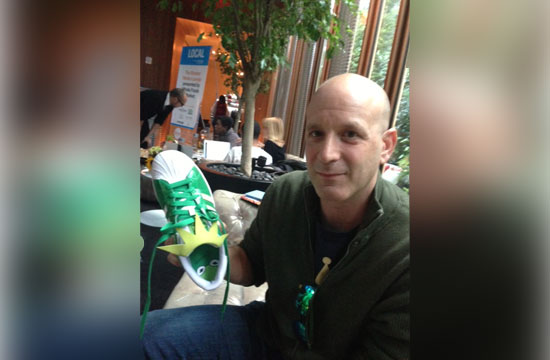 Who but Marc Vetri would have those sneakers? It turns out that the guy who wrote the best defense of hard work we've come across on the web, and some of the most no-nonsense words that we've printed so far this weekend, would willingly wear Kermit The Frog kicks. But Vetri insists that he didn't have any agenda when he wrote that recent op-ed in the Huffington Post, which went viral in a matter of days: "All it is is basically me, I literally sat down and talked from the heart."
What are you looking forward to?
I've been in Philadelphia all week, so I just came up for this. I'm actually doing something with [Mark] Ladner this evening down at the City Grit Tavern. We're going to have fun. Since we're the near sometimes I'll kind of come up for some of the events, but this year I wasn't able to make it up. So much stuff going on in Philly. It's an hour and a half away.
Do you and Mike Ladner work together often or is this your first time?
The last year and a half we've been doing a lot of things together. We have a similar mojo. We have a very similar style. Mario [Batali], Ladner, and all those guys [in] Mario's organization, but specifically Ladner, we have an awesome synergy, and lately it's like everyone's been pairing us up together. We're doing something down in Mexico together to honor Massimo Bottura, a world renowned chef from Italy. I mean I've known [Ladner] since his early Lupa days, because I opened up Vetri in 1998 like one month after Mario opened up Babbo. Started working with him soon after and just kind of liked him then and I like him even more now.
The op-ed that you wrote for the Huffington Post recently–
That got a lot of play. Oh my god.
It really did. What inspired you to write that?
They asked me to write a few articles throughout the year. So, my first article was this article about healthy eating, about healthy school food and the issue with it nowadays. And then I was really having an issue with my next article and I was late on it and then I was out at some event and I was with a whole bunch of chefs and we all started talking about stuff and it always leads to, "Hey man, I'm looking for a chef for this. I'm looking for a chef for this. Do you know anybody. Yeah, I have a guy, but he's lazy." And we just started talking about the industry a bit and the more that you get into it, I hate to sound like the old guy whose always like, "When I was young I used to lift up something and walk up nine flights of stairs while lifting that blah, blah, blah," but actually he (points to his publicist) was hounding me for an article. And I literally sat down on a plate and I started to think about what would I say to young chefs who are starting to get into the industry.
So, there's all this talk and then my friend Michael Solomonov, he phones me up and he's like, "I just have to tell you this, because it's an amazing story… so, I stuck this ad up for chefs. So, I got a whole bunch of responses for it, and this guy looked nice and he emailed me his resume and everything, so I gave him a ring on my cell phone. I was like, 'Hey, this is Mike Solomonov. I'm really interested in having you come in. Let me know when you're able to. Here's the restaurant number.'" (Exasperated) So, he doesn't call the restaurant.  He sends Michael a text message like, "Hey… before I stop in, how many covers do you do on a Saturday night? What line station will I be working? And how much money will I be making?"
That's presumptuous.
That's so f***ing presumptuous. He's like, "Dude, the guy is right out of school and he's asking me how many covers I do on a Saturday night and that's going to make his decision whether he wants to work?" He didn't even interview. That was all he had there. You want to be looking for somebody you want to work with and learn from. It's so presumptuous and just the wrong attitude to have.
I thought that I was going to get a whole lot of flak. There was one guy who like said that the article was nonsense. Literally, I got thousands of responses like, "Chef, that's the greatest thing. I've actually printed it out and I hung it in my kitchen."  Thousands of them. I got emails. All it is is basically me, I literally sat down and talked from the heart. This is really what I feel. And if everyone hates you for it, fine, and if it's something that they can learn something from, fine. But I was just frustrated.
Is that the way that a lot of really young chefs are acting [nowadays]?
No. I mean listen: When I was coming up in the industry, there's guys who will take advantage of opportunities and work hard and there's guys who won't. But I think there's a lot of opportunity that was not there when guys like me and Mario Batali and Michael Symon and Bobby Flay and all these guys, when we were working as line cooks the ultimate thing, if you made it and that was it, it was always like, "One day, I'm going to open up my own restaurant." And that was the top. That was like, "I've made it. One day I'm going to open up my own restaurant." Not multiple restaurants. One day I was going to open up my own restaurant.
And that's not at all saying that it's a negative thing now that there is a lot more opportunity out there. That's awesome. That actually, one: helps the restaurant, because more people are eating out and it's great for restaurants that there is a lot more opportunity in the field where you can work as a line cook and you can say, "Hey, maybe I want to work on a television show… or maybe I want to get in the writing field." There's a lot of awesome opportunity. You don't have to stick to working in a restaurant, but there's also the downside, which is, where there is all that opportunity, there is a tendency to kind of skip over the basics and just move right to that. But then you have a false sense of just knowing things like the basics.
And there was a lot of positive reaction to that?
There was only positive reaction. As I said, there was one guy from Canada that was like, "Oh, so we should just work for nothing for the rest of our lives?!" And I tried to reason with him, but he was just not having it. I told him to read number three on the list again, which was, "If you're a line cook at 25 years old and you're still a line cook at 35 years old, you should look at yourself, because you are most likely the issue."
Where do you see the food scene in Philadelphia going? It's not what it used to be for sure.
Everyone's talking about that like it's this new thing, but it's not. It's been happening for ten years and the last five years it's just been blowing up. Just wonderful chefs opening up wonderful restaurants. I mean as good as any city in the United States.
Maybe people have been paying more attention recently?
Maybe. Also, nowadays with the internet and kind of more out there, when you open something I think that everybody knows about it right away whereas if you opened something ten years ago, you had to wait until you went there or it was in a national magazine, otherwise you weren't going to hear about it.
Imagine that we live in a dystopian future and the government came to your restaurant and said, "Hey, we're going to take your restaurant unless you compete in a cooking competition of your choice." What show would you choose and how would you win it?
I'm from Philadelphia so I'd say, "Why don't you go f*** yourself and get the hell out of here?" That's how we roll there, though. God, I don't know. If I had to do it again, the only one that I really like is Iron Chef. It's a fun show. It's a real sixty minutes worth of stuff. You're making stuff and then they eat and they like, this better and that's it. And it's really fun.
There's none of this gimicky, "Let's go dive under water and…"
Yeah, like I'm not into doing something that I don't normally do to prove my worth as a chef. I don't think that's necessary.
(Vetri's publicist points out his sneakers. They are pretty sweet and oddly familiar.) Are those Kermit kicks?
Yes, they are.
Why did you get those?
Because I saw them and I loved them. This actually helped me to get the Adidas guys to help sponsor the Alex's Lemonade event, because they were eating at the restaurant and I was like, "Listen, guys you have to help me with this event." And I had just gotten these like one week earlier and was actually wearing them that night. And I was like, "Listen, guys, who else would buy these stupidest f***ing shoes in the world but me?  I love Adidas!"
Publicist: They raised a million bucks that night.
The Braiser: Because of Kermit?
Marc Vetri: It helped. It helped. They saw me wearing those.
Have a tip we should know? tips@mediaite.com