How to Cover Your Ass If You Haven't Started Preparing For Your Super Bowl Party Yet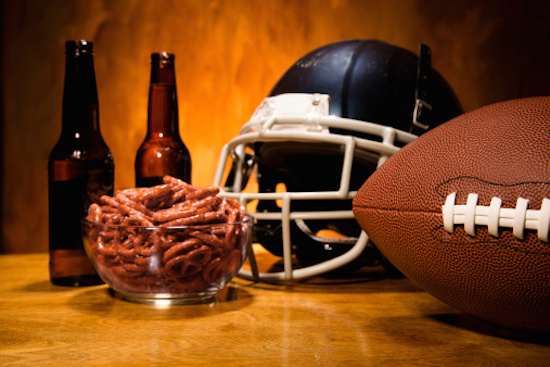 Wait a second, you actually agreed to have people over for the Super Bowl? Are you crazy?
Super Bowl XLIX is just two days away and we are freaking the eff out for you. Because anyone else is going to tell you to have your wing recipes already prepped, your dips sitting in the fridge, and mother of god what are you still doing reading this list? Let's get you started. We've got the celebrity chef recipes, the tried-and-true party favorites, and tips to make this football nightmare go as smoothly as possible. (Because everyone knows that when your crowd's team is losing, they'll go to town on your appetizers — and they will judge.)
Wait, do I actually need to do anything more than picking up a couple bags of chips and jars of queso for the party?
Yes, yes you do.
OK, fine — what do I actually need to get from the store?
Good question — you need a shopping list. And Food Republic has it made — produce (aka guacamole and hot dog toppings), meats (wings on wings), condiments, and booze supplied. Amazing! (Oh, and Real Simple reminds us that every party needs ice and paper plates. Don't forget those either.)
Wait, do I really need to make wings?
Of course you need to make wings. We're not animals. And you better get to the store right now to buy them, as stores are most likely running out by now (and more expensive).
Well sh*t, I can't afford to make or buy that many wings. Now what?
Then make a whole bunch of other meat, because mother of god if you don't have meat at your Super Bowl party, you will be burned at the stake. What to make instead? Chili, meatballs (hell, get them frozen if you have to and heat them up), hot dogs (you know how to make a hot dog, don't you?), burgers. Hell, get some frozen chicken nuggets and make those instead. They won't be as messy as a chicken wing, which is always a plus.
Isn't this going to take a sh*t ton of time?
Probably, yes. But you've committed to this by now, haven't you? LET'S DO THIS.
Ok, fine. So what recipes should I make again?
OK, here's your ultimate list of party-favorite recipes (thanks, chefs):
Nachos (we like this recipe)
Wolfgang Puck's hot dog recipe — cheese on cheese)
Alton Brown's guacamole recipe (duh)
Rick Bayless' queso recipe (oh heyyyy — don't mind if we take a swig of tequila while making it)
Ugh, isn't there an easier way to do this?
Yeah, make people bring stuff to your party. You're the host, anyways! (Oh, and we hear there's some fancy NFL app for Super Bowl parties. Maybe try that too.)
What else should I get from the store?
Chips on chips, pretzels, fresh veggies for crudite (easy), salsa (don't even waste your precious time trying to make some), and a box of brownie mix. Simple.
Oh wait, booze too.
Yeah, all. the. booze. If you wanna get fancy this Super Bowl, pick up some Seattle and Boston craft beers — Elysian Brewing and Samuel Adams only. But also, make your guests bring that sh*t.
And if none of this goes well?
Well, order a pizza and be prepared to wait forever for it to be delivered. Or just drink too much beer and pass out before anyone actually notices how hungry they are.
Have a tip we should know? tips@mediaite.com