Hugue DuFour Live At GoogaMooga: We're Not Going To Offend People With Horse Meat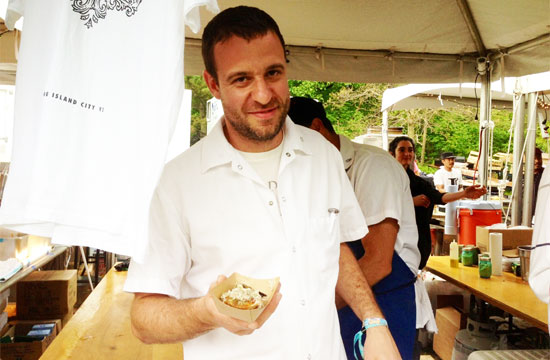 It is drizzly and gray today at The Great GoogaMooga — not enough to deter thousands of people from wandering through Prospect Park, but damp enough for us to easily squeeze our way through a smallish crowd towards Hugue DuFour, the charming Frenchman at the helm of M. Wells. Given the reaction his stand raised last year at the festival, we weren't surprised to see an oyster bolognese made with beef and not horse meat — but we couldn't help ourselves. We had to ask if he had any words for the…neigh-sayers. (It's cold out there; sue us.)
So what is this ridiculously awesome-looking thing in front of me?
It's an oyster bolognese. So it's a raw oyster that we shucked, and then we cooked it on the grill with a bolognese sauce. A horsemeat bolognese.
Wait, there's actual horsemeat in this, too?!
(flirty smile) No, no, there's not.
Oh, come on! I knew you had horsemeat here, last year (the infamous horsemeat bologna grilled sandwich sparked a massive outcry). How do you feel about that?
Well, it's no longer legal in the States. (Sad shrug.) I'm not going to offend people, and at the end of the day, this is a business that I have to run.
There was also foie gras in that sandwich, though. As far as I can tell, that's still legal in New York. 
Yeah, there's no foie gras here, either, this year. It's so sad. But we can have the truffles! Put it on the half-shell, shave it on top of the bolognese….
(Indeed, for $10 extra, DuFour will Microplane extra black truffle shavings onto an already rich and decadent oyster. I ogle at the hedonistic half-shell.)
So, uh, how has GoogaMooga compared this year to last year so far?
I don't know the difference so far. Yesterday was not as good, not as good as last year.
Yeah, 'cause last year I remember being here, and everyone felt as if it were the Hunger Games: huge, long lines; no one had anything to drink; everyone was dying in the sun.
To be honest, it was great for us last year. We had a lot of fun, and I know that the GoogaMooga VIP section was a lot of fun — Hi, guys! (He waves at some passersby.) — so yeah, we're hoping for the same.
Have a tip we should know? tips@mediaite.com