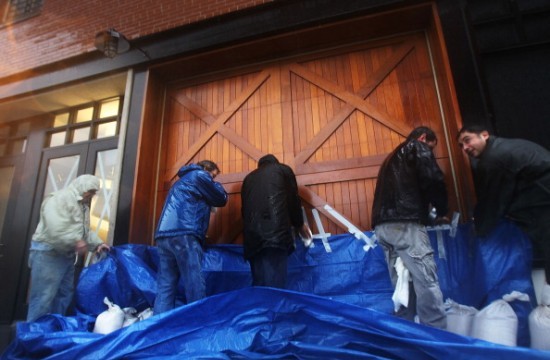 The devastation of Hurricane Sandy not only shut down an entire city, but a huge portion of its restaurant industry. (And yet, somehow, people are still filming live televised cooking segments. What up with that?) As an example of how nature spares no one, the Huffington Post caught up with two of the city's biggest celebrity restaurateurs, David Chang and Joe Bastianich, to see how they'd fared.
In Chang's case, they'd had the foresight to move all of their food from their East Village locations to their giant walk-in refrigerator in Williamsburg, Brooklyn, which did not lose power. As a result, the Momofuku restaurants should be up and running in the next few days, albeit with abbreviated menus,  according to director of operations EunJean Song.
But the B&B Hospitality Group is, to put it mildly, screwed. Bastianich revealed that six of his company's flagship restaurants — including Del Posto, Babbo, and Eataly (NOOOOOOOOOO) — lost power during the storm. Worse, unlike Momofuku, they didn't move the food out of their restaurants, and had full fridges when the power outages hit. By tomorrow, he told HuffPost, they're going to have to throw it all out. Del Posto alone will have lost between $50,000 and $70,000 worth of food.
"We had no idea how bad it would be," Bastianich said. "This is so much worse than any of us expected." (We shudder to think how many hundreds of thousands of dollars worth of prosciutto Eataly will lose.)
We hope that everyone gets their restaurants back up and running as soon as possible.
[HuffPost]
Have a tip we should know? tips@mediaite.com