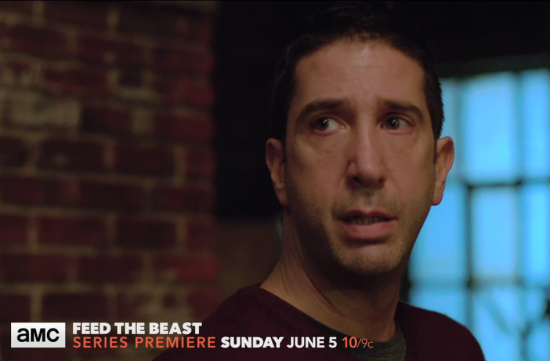 The premise of AMC's new series Feed The Beast sounds really interesting. The show is about two friends "who are like brothers," and who are also "on the brink of losing everything." They go into business together and "they take on the insanity of the New York restaurant world, and navigate its underbelly of petty criminals, corrupt officials and violent mobsters." I put even more faith into a show with this premise because it's from the showrunner of Dexter and the network that gave us Breaking Bad. But after the first two episodes (which aired on Sunday and Tuesday of this week), I'm not entirely sure what to make of it.
What the show is based on is very real. As diners, we see only the dining room. Well-dressed waiters serve perfectly plated food, and everything runs smoothly. But if the food television I've watched and Kitchen Confidential have taught me anything, it's that that's just a performance. What goes on behind the scenes is at best hectic and at worst deadly. In Kitchen Confidential, Anthony Bourdain says, "You might get the impression from the specifics of my less than stellar career that all line cooks are wacked-out moral degenerates, dope fiends, refugees, a thuggish assortment of drunks, sneak thieves, sluts and psychopaths. You wouldn't be too far off base."
But nothing on this show feels real. When we meet Dion Patras, played by Jim Sturgess, he's in jail, where he cooks and he's everyone's favorite guy. He's released, and within five minutes he's snorted cocaine, slept with his lawyer, and narrowly evaded the mobsters (including the "Tooth Fairy" Patrick Woichik, played by Michael Giadis) waiting for him at the jailhouse door by deftly diving into a sewer in the time it takes for a garbage truck to drive by.
Tommy Moran, played by David Schwimmer, is, for the most part more believable. He plays an alcoholic sommelier who is raising his son, TJ in the restaurant space he meant to open with Dion and Rie, his wife before she was killed in a hit and run. Rie died right in front of TJ, and since then, TJ hasn't spoken. The backstory here is that when Rie died, Dion did a bunch of coke and burnt down the restaurant they worked in (which was owned by The Tooth fairy), which is why he was in jail and also why the Tooth Fairy is angry with him. Have I lost you yet?
Dion owes the Tooth Fairy $600,000, and he tells him he's opening a restaurant with Tommy, so he'll be able to pay him back. Tommy reluctantly agrees to the idea but is concerned about money. That's when we meet Tommy's racist father, Aidan. Tommy and Aidan don't get along, probably because Rie was African-American, but Dion and Tommy need him to invest in their restaurant, Thirio, a high-end Greek place they plan to open in their Bronx neighborhood. Dion prepares a meal for him, and though Aidan isn't interested in any of the food, he is interested in gentrifying the Bronx, so he agrees to invest. As part of the deal, Tommy also has to allow him to see TJ once a week, which he reluctantly agrees to.
Aidan makes up a contract. Tommy wants a lawyer to look at it, so Dion asks his (the one he slept with, who also happens to be the daughter of the cop chasing the Tooth Fairy, but that's for another day). When she says no, Tommy brings it to Pilar, a woman he knows from his grief group who also has a restaurant. She tells Dion that the contract is shoddy, but Dion is too focused on not having his teeth pulled out (by the Tooth fairy, get it? That's why he's called that) or worse, so he decides he'll go along with it anyway.
In the meantime, TJ is having a lot of trouble in school. When he comes home with bruises on his stomach, Tommy immediately assumes it was Aidan, and goes after him. Aidan beats him up and ends up putting a gun to his head, creating another unnecessary, unbelievable and unrealistically violent moment for the show. The characters at this point all feel like caricatures, and none are likable, except for TJ, which brings me to the cooking scenes, rare but bright spots.
Dion prepares a few meals throughout the two episodes. They're shot beautifully, and the food looks delicious. We also get to see TJ take an interest in something, and even without words, during these scenes he's a lot of fun to watch. The food TV addict in me wants to love these parts, except for one thing. As Joshua David Stein pointed out, none of it is real or even realistic. There's a scene in which TJ makes a cappuccino for his dad. Stein writes:
I know he's just a kid, but presumably both of his parents were in the food service industry. Surely one of them would have told him that if he uses an $18,000 Elektra Belle Epoque espresso machine, as he does, to steam milk for one drink, he'll not only be wasting most of that milk but there's no way he'll achieve the microfoam one needs for latte art. He also doesn't wipe down the steaming nozzle, which is like Barista 101, and leaves the milk sitting in its aluminum vessel.
When Dion prepares a pasta dish, Tommy presents it as Malfati. Stein points out, "This is not malfatti. Not even a little bit. It's not like it's gnocchi, which kinda looks like malfatti. Or gnudi, which also kind of looks like malfatti. This is pappardelle. Clearly."
So, who is Feed the Beast for? It's not for serious food people, clearly. It's also not for serious TV people since the characters and plot points have no nuance, no subtlety.
Maybe when the restaurant opens we'll get what we're looking for. Maybe we'll get the juxtaposition of a smoothly running dining room with chaos in the background. That's real life, and it's what we want to see. But the show needs to do more in terms of the food. And in terms of plot, it needs to do way, way less. Here's hoping.
See you next week!
–
Have a tip we should know? tips@mediaite.com