In Awesome Lady Chef News, 3 Michelin-Starred Chef to Open 2 New Restaurants in New York City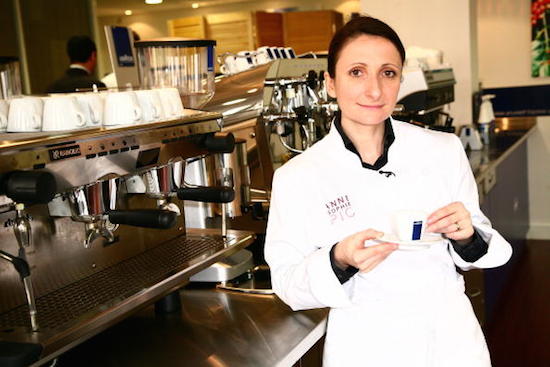 Bienvenue à New York, Anne-Sophie Pic.
News broke yesterday that the famed French chef Pic would be opening two restaurants in New York City next year; one will be a cafe, an extension of Metcafé in Monaco, and one a more formal restaurant, La Dame de Pic, in the same building. And yeah, this girl rules. Grubstreet explains that the family restaurant in France, La Maison Pic, lost a Michelin star after her father, Jacques Pic, passed away. But once Anne-Sophie Pic took over the restaurant in 1997, she built the restaurant's reputation back to its status and earned back the third Michelin star after 10 years of hard work.
Why is this a great day for lady chefs? Because Pic, named the best female chef by S. Pellegrino (the same people who put together the coveted World's Best 50 Restaurants list each ever) in 2011, is way more than just an awesome female chef. As Grubstreet puts it, neither her gender nor her famed family history are what set her apart from other top-rated chefs:
Pic's food has a reputation for being absolutely stunning and elegant while also being delicious. It's elegant and refined but it isn't necessarily tweezer food. With high-end, fine-dining restaurants on the wane in New York, the arrival of an internationally acclaimed chef at the very top of her game means there's a very good chance that we're going to get new options for serious and interesting fine-dining that aren't also overly pretentious.
Said Pic to Food Arts magazine back in 2012, her goal is to "make a cuisine that is feminine and conveys emotion, but without being 'show off.'" And just to Figaro this month, she said (in a rough Google translation of French, forgive us)" that "the kitchen is 80 percent instinct when you are young, then it's art. Today I am at the crossroads of both. And my work is starting to bear fruit." That it is — add Pic to the other "goddesses" of food in New York City. The "gods" are getting some stiff competition.
[The New York Times, Grubstreet, Food Arts, Figaro]
RELATED: Last Call: France Doesn't Have Any Lady Food Gods Either, Apparently
Yahoo Food Gets Girl-Power on Us, Names Cherry Bombe's Kerry Diamond as EIC
Again with the 'How Do You Stay So Skinny, Christina Tosi?' Articles"
Fortune, Food & Wine Name '25 Most Innovative Women in Food,' Gives Us Conflicted Feelings
Have a tip we should know? tips@mediaite.com