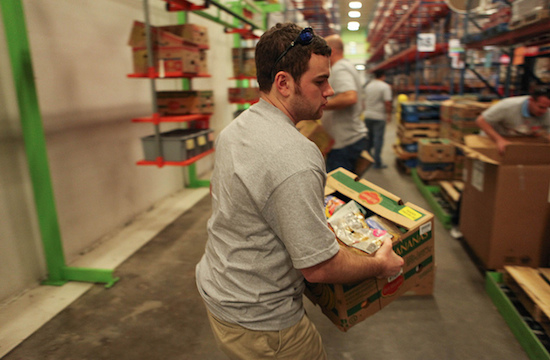 Yeah, none of this is good news.
A network of American food banks, called Feeding America, conducted a study last year to get a picture of food insecurity in the country. Among the results of the study — one in seven, or 46 million Americans visited a food pantry last year — was that 620,000, or one in four of all military households, needed assistance last year. Feeding America says it's among the growing concerns the organization has heard from its food banks over the last several years.
NBC News reports that a number of factors have led to the sudden rise of families seeking help: poor financial planning by younger active duty servicemen, and job instability for spouses. Veterans aren't immune either, thanks to "real-world triggers" when they return, and low disability and retirement savings. From NBC News:
"Lowest income military families are living paycheck to paycheck, and even those paychecks aren't enough to make ends meet," said Shana Hazan, a director at Jewish Family Service (JFS) of San Diego, which began holding food distributions at military locations in early 2007. As JFS makes its yearly plans, "I don't think we ever questioned whether the need will remain in terms of food insecurity among military families. That is just a base of assumption for us." …

"It's hard to know that my husband is fighting for his country and he's working long days and long hours and we still have to struggle to keep food on the table and gas in our cars," said Shirley Starkey, 45, whose husband, a Marine of 11 years and a sergeant, has been deployed twice to Afghanistan and once to Iraq.
So really, everything is the worst.
The Pentagon responded to the study saying that financial counseling is available, but that "military pay and benefits compare favorably with the private sector," according to NPR. Nuh-uh, says NBC; it reports that the Department of Defense issued the lowest pay raise in 50 years, at just 1 percent. "For enlisted soldiers, pay starts at about $18,000 for new recruits and can reach upward of $65,000 for some who log more than 18 years in the military, according to the DOD's pay grade for 2014."
No really, it's the worst.
Have a tip we should know? tips@mediaite.com