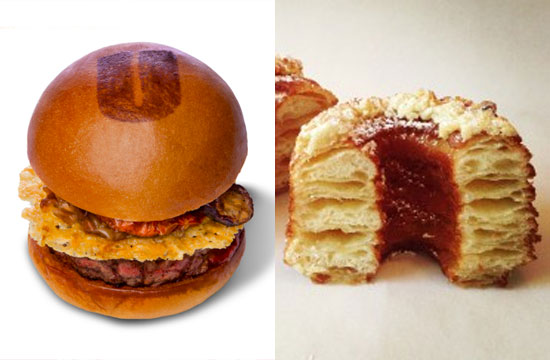 Did First We Feast just jump the shark with the latest trend of combining two foods into one Frankenfood? The demented minds behind that sunny website took the crossaint-doughnut hybrid known as the Cronut, and transformed that Frankenfood into a Frankenfood2, by putting an Umami Burger patty in there.
A bold intern from the site volunteered to wake up at an obscenely early hour, wait two hours in line for a cronut, then ran his little legs over to the new, hot Umami Burger, recently imported from California to New York City. His account is hilarious, but yes, we know, we're in awe and totally disgusted at the same time, too:
Messy doesn't begin to describe it — a soft, juicy patty, already falling apart, stuck in the middle of a flaky, blackberry-packed pastry is not supposed to happen. I eat the early morning dessert burger anyway I can, with jam and burger grease fresh on my slick hands.

To my surprise, the flavors melded well. The blackberry filling sweetened the savory Umami flavoring. As my waitress told me, "It looks like a heart attack on a plate." I corrected her, "A little sweeter than a heart attack."
Either this burger is a clever satire of the trend-obsessed New York food scene, skewering both the craze surrounding Dominique Ansel's pastry and Adam Fleischman's burger…or that poor intern is gonna wake up with an ulcer today. Read his shocking True Tale below.
[First We Feast via Jezebel]
RELATED
Waiting In Line For Cronuts, As Told By A 10-Year-Old Boy
v
Adam Fleischman Of Umami Burger Says NYC's Best Burgers Are 'Just Okay'
Have a tip we should know? tips@mediaite.com