Ironically, Pete Wells' Slam Of Guy's American Kitchen Boosts Fieri's Business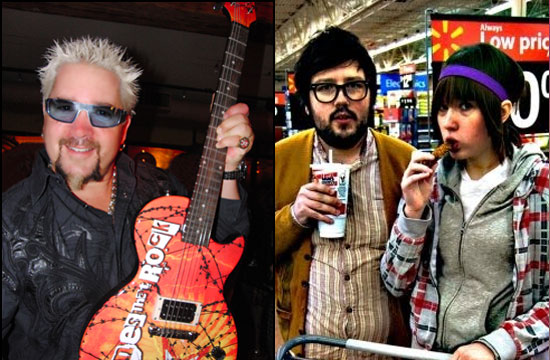 Because it was inevitable: after Pete Wells' viral smackdown of Guy Fieri's Times Square restaurant, reservations at Guy's American Kitchen and Bar exploded. But while a majority of their clientele remained out-of-town visitors, Bloomberg News reveals something completely obvious in retrospect: young New Yorkers like visiting the place ironically.
No, no, we're not talking about curious people like Nneka Udoh of Brooklyn and her strip mall-loving family from New Jersey, who visited to "see if Pete Wells was just writing that review to get attention." (Udoh's verdict: he wasn't.) We're talking about young people, all locals, who willingly pay hundreds of dollars for the express purpose of ironically having a bad time at a restaurant:
When Gary He, a 29-year-old freelance photographer based in Manhattan, visited Guy Fieri's with a friend on Thanksgiving, the place was packed with locals. "They were all coming in an ironic way to check it out," he said. He ordered from a special Thanksgiving menu with offerings that ranged from a "pretty decent" beet salad to "flavorless" turkey that tasted as if it had been cooked in a microwave. "I don't know what [Fieri] was thinking," said He. "Maybe he's just trying to replicate what your drunk grandma would make you for Thanksgiving?"

When I told He that I planned to try the restaurant myself, he offered me some advice. "Buy Ex-Lax," he said. "No, don't laugh. I mean it."
Yes, there are people out there spending hundreds of dollars on ironic entertainment — hundreds of dollars on food that they know they're not going to enjoy — when there are still so many restaurants in New York afflicted by Hurricane Sandy that could use their support. Good restaurants, too. Not that we demand that hipsters, nor anyone else, stop going to Guy's American Kitchen and Bar (it's the free market, after all), but the entire act of visiting Guy's restaurant for ironic purposes repudiates everything that young, food-obsessed New Yorkers with lots of free time and a variable amount of disposable income profess to value: supporting local businesses, celebrating artisans and craftsmanship, pitching in when someone in the community suffers a setback.
Also, there's just something inherently shitty about people eating a chef's food intending to hate it. Even Wells admitted that he hoped he'd like it, when he first came in.
Have a tip we should know? tips@mediaite.com