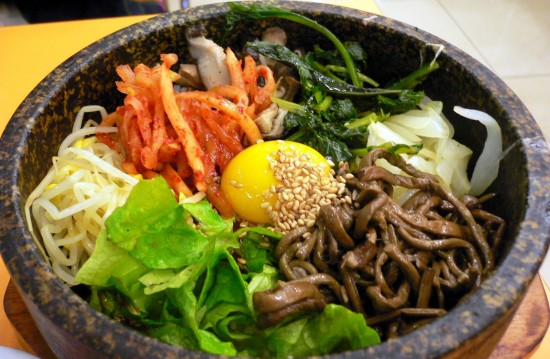 "Where's the line between culinary cross pollination and cultural appropriation? What's the difference between taking inspiration from someone's food and ripping it off?" Is it okay people to cook food from a culture they weren't born into? And, is it okay for them to change that food? What about if it's "a food associated with people of color, and the person doing the changing is white?" How can we talk about other people's food?
The Sporkful's Dan Pashman began a four part series this week called "Other People's Food," which will culminate with the release of the live episode "Is This Food Racist?" The first episode begins with Pashman discussing an incident that occurred when he wrote an article for Digg called Bi Bim Bundt: A Korean Food Innovation. In the article he details how he might be able to make Bi Bim Bap with more crispy rice if he uses a bundt pan instead of the traditional dolsot, which is an extremely hot stone pot. Pashman is known for pondering these kinds of questions and providing solutions. I once learned from him how to perfectly reheat a Cuban sandwich in an office without a toaster oven. His technique, involving generated heat from a regular pop-up toaster is fool-proof.
Reactions to his innovation were extremely mixed. "Some Korean-Americans loved it," he revealed on the podcast. Others, not so much. People were insulted. Pashman brought a listener on the show who pointed out one obvious issue:
To assume that your little bundt cake idea is somehow going to improve on this thing that's been around for so long, there's that kind of idea of cultural coopting… One of the ways to look at that is taking the bits and pieces that you like and not really ever taking the time to understand what that thing really is.
Each of Pashman's guests acknowledges that it's okay to specialize in a cuisine that's not your culture, but that to do it right, you have to truly immerse yourself in the culture. They also acknowledge that it's not a level playing field between cultures. Professor Krishnendu Ray points out that white people can specialize in pretty much any cuisine, and people will take it seriously. Thomas Keller can do anything he wants, cook anything he wants, and we'll all get on board. Acclaimed chef Floyd Cardoz, on the other hand, had an extremely tough time convincing people that he could do a great job with New American food.
Rick Bayless is one of the best and best-known chefs of Mexican food in the country. If you've been to a food store lately, you've unquestionably seen Frontera salsas on the shelves, and if you are a student of restaurant write-ups, you'll likely try to get yourself to Frontera Grill when you're in Chicago. It's worth noting that he's also a white guy from Oklahoma. Bayless talked about going to Mexico City as a teenager, and suddenly feeling at home. When he ate his first meal there, he said, he felt as though he had "died and gone to heaven." He spent time living in Mexico, visiting and eating in every state in the country. He explored the markets, sometimes going to one stall every day for a week until he truly understood the food.
His restaurants serve authentic Mexican food, and he talked about how he struggled to get people to understand the food, and how he had to do a sort of translation of dishes on his menu to make it more appealing to Midwesterners.
On the other side of professor Ray's point, Bayless says that because he's white, he doesn't feel the freedom to play with Mexican food. Because his last name is Bayless, people think that if he wants to be respectful to the food, he has to stick with tradition and the classics. "Is that just plain racism then," Bayless wants to know?
And, how do we talk about other people's food? Is it okay for Pashman, a student and a lover of food, but someone who is not Korean, to critique Bi Bim Bap at all? If he can't, and if Bayless can't cook Mexican food, doesn't that just make for a less tasty and less interesting world?
I'm not sure whether Pashman can decide how to make a more delicious Bi Bim Bap. I'm also not sure whether a bundt pan wouldn't make for delicious and crispy rice. It's certainly a discussion worth having. What do you think?
Listen to the episode in its entirety here:
Have a tip we should know? tips@mediaite.com