In 2014 it was ramen. In 2015, it was toast (wtf, 2015). 2016 is officially the year of Israeli food, so get ready for lots more hummus, salads, and all of the deliciousness that goes along with that. We shouldn't be surprised; it's been sneaking up on us for a while, and now Israeli chefs and restaurants are prepared to take over.
Michael Solomonov is one of the chefs leading the charge. This week, his book Zahav won the James Beard Award for International cooking. His restaurant by the same name opened in 2008 in Philadelphia but since the book came out it's received a ton of publicity and it's now nearly impossible to get a reservation. We were there on a recent Saturday night and people were all but literally being turned away at the door. Solomonov also has several other Philadelphia based restaurants including a casual hummus restaurant, Dizengoff that is opening its second location in Chelsea Market in New York City soon. New York has seen a huge surge in Israeli restaurants over the last few years. Taïm, Balaboosta and Bar Bolonat are all staples now, and Timna, which opened late last year in the East Village has gotten rave reviews.
It's not just the restaurants and chefs, though. If you've seen carrots, beets, or whole cauliflower on a menu recently, you have Israel to thank for that. In January, The New York Times published an entire article on whole roasted cauliflower in January, calling it a good way for home cooks to get out of a "vegetable rut." For restaurants, he called it a chef's "favorite trick."
It is the centerpiece of menus at restaurants as far-flung as Los Angeles (Ford's Filling Station), New Orleans (Domenica) and beyond, to Paris and Vienna, where the Israeli chef Eyal Shani has recently opened outposts of his Tel Aviv restaurant, Miznon.

His "baby cauliflower," now famous, blanched in salted water and then oiled and charred in a wood-fired oven, started the craze, which has been picked up by the likes of Jamie Oliver, Rachael Ray and Giada De Laurentiis.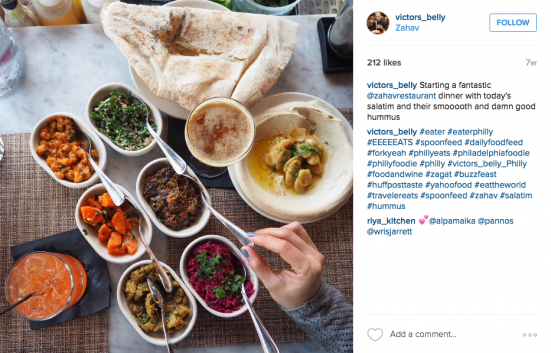 One of the reasons Israeli food has become so popular is that it's delicious. Another reason is that Israeli food is made and served in the way that people want to eat today- it's small portions with a lot of variety.  A meal at Zahav, if you're doing it right, begins with Salatim, a daily selection of salad that come to your table in several small bowls (significantly smaller than tapas). You'd follow it up with small plates, and maybe meat grilled over coals. You get to try a ton of different things in much smaller portions. In "foodie" culture in America right now, that's all the people want.
[image via Instagram]
–
Have a tip we should know? tips@mediaite.com