It Took One Year and $44,000 To Make A True Locavore Grilled Ham And Cheese Sandwich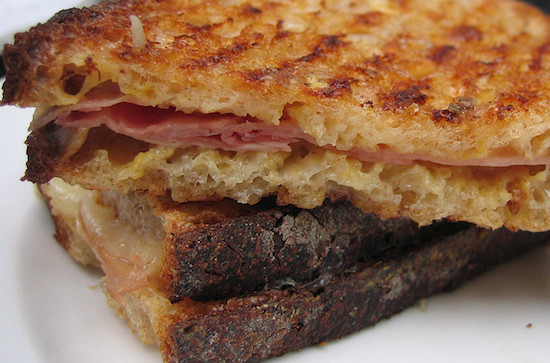 Guess we'll never complain about our neighborhood deli again?
The Sandwich Factory (yes, a real thing) in Amsterdam took on the undulating task of making a grilled ham and cheese sandwich "from start to finish." And boy, do we mean start to finish — the real "locavore" version of a grilled ham and cheese sandwich did not involve sourcing from local purveyors of bread, cheese and ham, but urban farming to make each ingredient possible. Said one of the team members about the project to Fast.Co, "The ingredients are super simple, but in the end it turned out that even just creating those three is a job that took 20 volunteers and entire summer in a makeshift farm."
Not to mention pricey, too. "To be honest, business-wise, we were the worst project that ever existed," said the project's founder, Sascha Landshoff, to Fast&Co. To produce 350 of these sandwiches, at about 20 euros each, the Sandwich Factory needed 35,000 euros (or about $44,000).
Naturally, it's making everyone question what exactly locavorism might really mean today (who's got time for a sandwich, anyways?). The project's answer? Uh, no, shut it down. Turns out eating local really only works on a hyperlocal scale (shocking, we know). How will Rene Redzepi handle the news? Or, perhaps imminently in scope and scale, how will Roy Choi and Daniel Patterson handle the news?
[Fast.Co h/t Grubstreet]
RELATED: The New Yorker Imagines a World Without Kale Just to Make Fun Of You Greens-Loving Hipsters
Roy Choi to Go Into Fast-Food with Daniel Patterson (And The World Rejoices)
Mark Bittman Nails Why the Word 'Foodie' Is So Infuriating in New York Times Op-Ed
Have a tip we should know? tips@mediaite.com