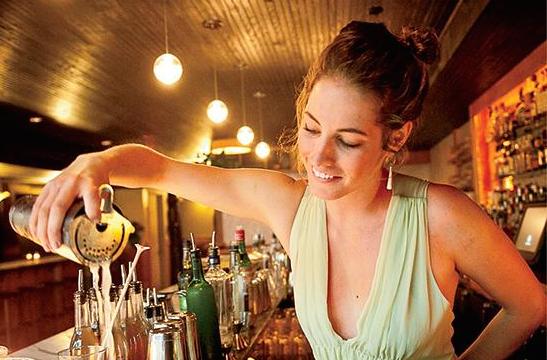 Remember when we broke the news that Food & Wine was planning a whole ladies-only issue? Well, that issue is here and it was worth. the. wait.
There's so much to unpack in such a lovely issue, and its online components. There are interviews with Nancy Silverton, Food52 goddesses Amanda Hesser and Merrill Stubbs. There are ballin' lady bartenders. There are videos with Stephanie Izard, Kristen Kish, and Carla Hall. (There's even a video with Jacques Pepin, talking about his women — cute.)
Still, Food & Wine is taking it a step further for what appears to be a broader initiative. "In 2015, F&W is teaming up with Toklas Society to feature the top women in food and drink, from rising stars to icons with lessons to share," it reads on the Food & Wine website. A much-needed feature, seeing as only 16 percent of the "Best New Chefs" ever nominated by Food & Wine were women.
And Food & Wine is letting readers (er, Twitter followers) weigh in on the best and brightest lady chefs in the industry, nominating them with the Twitter hashtag #FOODWINEWOMEN. So far, we're liking what we're seeing.
#FOODWINEWOMEN Ate at these ladies' restos in 2014, left each incredibly inspired: @jkachristensen @chefantonia @ChefBrookeW @NaomiPomeroy

— Michelle Bernardin (@michellerenee74) December 31, 2014
I nominate @DrunkBakers founders @keavyblueher & Allison Kave who kickstarted their biz of brick & mortar booze & desserts! #foodwinewomen

— Katie Hoffman (@katoogin) December 30, 2014
@foodandwine your list would be incomplete if @JediWineMaster was not included. Jennifer is THE expert on all things wine.
#FOODWINEWOMEN

— Celeste J Marek (@CelesteJMarek) December 30, 2014
Thanks @foodandwine 4 Jan issue that's not the dreary predictable "lose weight/low fat" post-holiday spanking. Love theme #FOODWINEWOMEN

— Darlene Barnes (@darlenebarnes) December 28, 2014
TRUTH.
Bravo, @foodandwine! #foodwinewomen pic.twitter.com/KaQWcPxlNo

— Anne Roderique Jones (@AnnieMarie_) December 23, 2014
It's a nice way to kick off a new year, no?
Have a tip we should know? tips@mediaite.com