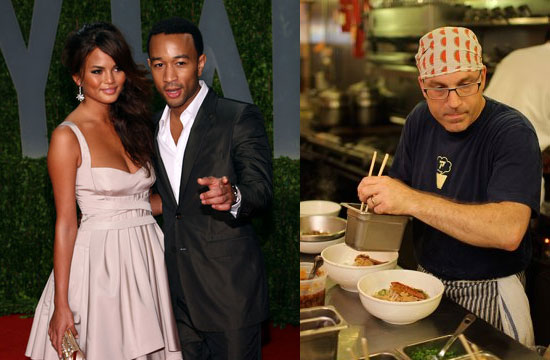 Let's pretend for four minutes that traveling to Tokyo exclusively to eat ramen for Christmas is something that normal people do! Let's also pretend that this "normal person" is also a beautiful supermodel named Chrissy Teigen who happens to be engaged to singer John Legend, and that said person also has a blog on which she writes about eating ramen for six days straight in Tokyo.
An excerpt from her totally normal life:
Sitting at home in New York, John and I debated where to go for Christmas. As his family Christmas would be the 22nd, we would get an entire week off to go wherever the hell we could dream up….Anyhoo. "Where to goooo, where to go." We debated Cabo for a bit. Nah, I like to be cold and still feel like it's the holidays. Plus I want to eat. PLUS, I am COVERED in "sand flea" bites from my last job and would scar in the sun. When I say covered, I mean everything but my face. They…let's just say they literally went into my ass crack.
(Making an "Ordinary People" joke at this point would just be too easy.) And so, Teigen and Legend jetted off to Tokyo for the holidays — a wonderful, normal trip that would have likely been perfect except for one Ivan Orkin, the celebrated gaijin owner of Ivan Ramen in Japan, who ramen Grinches the two of them and ruins Christmas.
Have a tip we should know? tips@mediaite.com