Ja Rule to Geoffrey Zakarian: I Want to Write A Cookbook of 'Microwaveable' Prison Recipes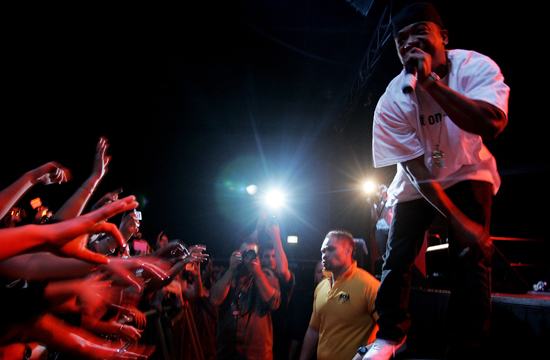 Perhaps noting 2 Chainz's recent culinary succezz, rapper Ja Rule announced during the New York Wine and Food Festival that he hoped to write a cookbook of "microwaveable recipes" inspired by his two-year stint in prison.
As far as we can tell, Mr. Rule, who once had many Top 20 hits with Jennifer Lopez and Ashanti, does not have a deal with a publisher for his prison-inspired cookbook. This explains why he made the announcement by crashing Geoffrey Zakarian's Sirius XM radio show "Food Talk." As Page Six recounts:
Zakarian was interviewing guests including Guy Fieri, Bobby Flay and Marcus Samuelsson during the New York City Wine & Food Festival when Rule rocked in. Like so many stars, Rule said he wants to write a cookbook. But in his case, all the dishes must be "microwavable."

"He explained that while behind bars he learned to cook anything and everything in a microwave," said a spy at the show, which airs Wednesday.
Unfortunately, for Ja Rule to end up on a show like The Chew, he's going to have to do two things: first, cover his prison cheesecake in gold, and second, stop collaborating with Lil' Wayne. As far as we can tell, sizzurp cannot be naturally sourced from local organic farms.
Though honestly, we'd kind of love to see a Lil' Wayne cookbook.
[Page Six]
RELATED:
2 Chainz's Health-Conscious Cookbook Includes Turkey Bacon Covered in Gold
Whoa, The Chew Actually Has Good Ratings for Once; Is 2 Chainz Responsible?
Jay-Z Sues Chef For Failure To Design Restaurant Menu Worthy Of HOVA
Have a tip we should know? tips@mediaite.com