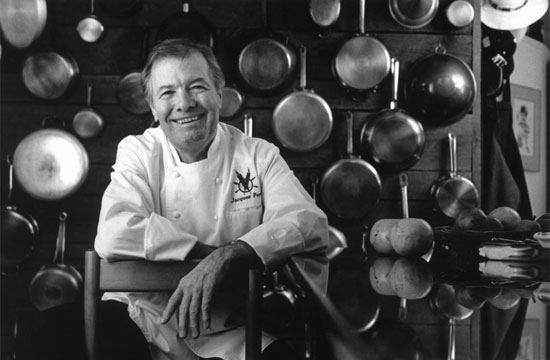 Last week, your correspondent stuffed her fat face with burgers at the James Beard House for the launch of Taste America, a nationwide food festival held by the Beard Foundation. While renowned burger chefs (and chefs of other foods) sent their dishes around on trays, we got to sit down with The Biggest Deal In The History Of American Dining, one Mr. Jacques Pepin, drink wine, eat blue potato chips, and talk about women eating manly food.
The Braiser: So  first, in your own words, can you describe this event?
Jacques Pepin: This is the launch of Taste America, which is a festival on the road; [a] traveling, cooking tour, if you want, which is very exciting because there [are] ten cities and ten chefs not from that city will go in and cook. There will be many, many other things. They will have a dinner, book signings, cooking demonstrations, tastings, and we really have some great chefs all over the country. From Vegas to Philadelphia, to some go to New York, so on, so forth. And some people like Ted Allen, Michael Voltaggio is going to be here, Rick Bayless, of course… So in that context the food world is very generous and it's great in a way to go nationwide. Susan Ungaro [President of the James Beard Foundation] has done a very good job this way because some people think of the Beard world, or the Beard House, or Beard Foundation as New York, which is ok.
True. There's only the one building in New York.
But they are from all over.  James Beard is from the northwest.  I remember giving a class with him in San Francisco, many, many years ago, and so forth.  So he really was involved all over the country, so I think he would be really happy with that.
Tonight is specifically about burgers. What is your thought about burgers? You don't particularly talk about them a lot.
Oh, no kidding! One of the best show, I don't know the best but one of the most popular that I've done, is with Julia Child, where we did burgers.
Oh right! The small, very thin ones. I can't believe I forgot that.
Now what I did, the American burger, I learned to do at Howard Johnson. I worked for Howard Johnson for many, many years and so I want thick, not pressed, I want to have lettuce on top, red onion, I add ketchup on top with the toasted bun and so forth. No salt on top, in the grill, salt after.
And she did a really French burger. She liked the meat with chopped onion, she sautéed garlic, with onion, mix it in the meat, put it in the skillet and press it flat, like a meatloaf, you know? And that was really fun because it was so different. And, it's funny that many times some people would say that she is more French than she is American (Laughs). But I mean, I love burgers. Surely I had one last night. I just had three now! Three small ones, to taste three of them. And the burger is, it's alright to be great, I mean for me a burger well done… but the burger has practically joined the level of haute cuisine. People do the burger with foie gras, with truffle, so it can become very, very luxurious.
Yeah, those high-end restaurants tend to serve very high-end burgers. What do you think about the mid-level restaurants? The Shake Shacks, the Fatburgers?
Oh yeah, that's very good. The point is, at that point, if you only stay with the basic ingredient, a good bun, you know, first great meat. It doesn't have to be Kobe beef, but I mean, a good quality beef if you do it properly on a grill — a wood grill, probably not pressing it on top to extract all the juice — plain like that, a slice of onion too, you can't have better… I go in New Haven, Connecticut, I go, there's a place which they say is the first burger in the United States, Louie's.  Have you ever been there?
Yes! Oh gosh…
With the special menu. There you don't ask for anything, ketchup, or anything! You have your slice of bread, and it's a slice of bread with the burger on top. So that's funny, the way people look at burger. But I love burgers.
Do you think McDonald's or places like that will ever be able to make a decent burger?
Yeah, I think they can. I think they can. I think they are moving in that direction. I think they are getting better bread, I think they are getting fresher vegetables to go with it. I think they are getting to a higher point. At that point, if they get the training program to teach people how to do it properly, then yes, there is absolutely no reason why not. Because, I mean, they have a piece of beef, they have a piece of bread, they should be able to do it well, or better. I think they should strive to improve, or want to improve to do it better. I mean, I like food. I have nothing against fast food.
Right, Julia said she loved the fries.
The French fries were very good there.  But at that time, I think they fried them with lard — and I mean I'm against processed food.  That's bad.  You don't know what you're eating.  But fast food, it can be very good.
Lately, a few men have declared that grilling meat is a manly activity. What do you think of that?
I think it doesn't really make any sense. That point is that — I mean certainly for me, somehow, especially in America — people tend to think of their French chefs as male. There are nine restaurants in my family that I can think of, my mother owns two. I'm the first male going into that business. We have nine female: cousins, aunts, sister-in-law, and so forth, who own restaurants. So you know this is a total misconception. Also the fact that I remember, certainly, thirty to forty years ago, I would give classes and [have] about 90 percent women in the classes. Now, I can go to those classes and now I find I have 60 to 70 percent male taking those type of classes.
Now conversely, I go into the professional world of cooking. I am Dean in the French Culinary Institute in New York and I teach at Boston University for thirty-one years. The last two times, I have a special class at BU, fifteen people in each class, fifteen females in each time. So you know, it's amazing how much females have gone into the professional world of cooking and how men, on the other hand, have invaded the front of house
But you're saying that men going "I can stand over fire with MEAT, and I got these sharp things, I'm such a DUDE" is silly?  It's one of our pet peeves at The Braiser, people saying that grilling is only for men. Well, women like to grill things, too.
No, [grilling] is neither for male, nor female, or anyone. It's for anyone who likes to grill, the feel for it, who like to do that stuff. Regardless, if it's a man, or it's female, or it's a homosexual, it makes no difference. (Laughs)
Oh no, a gay burger!
(Laughs) Oh yeah, yeah, yeah,  good idea…it's also a happy burger, right?
This interview has been condensed for length and clarity.
RELATED POSTS
Adam Fleischman Of Umami Burger Says NYC's Best Burgers Are 'Just Okay'
Triumphant Bobby Flay Vanquishes Michael Symon In South Beach's Burger Bash
Have a tip we should know? tips@mediaite.com