'This Is Awkward' And More Celebrity Chef-isms From The James Beard Red Carpet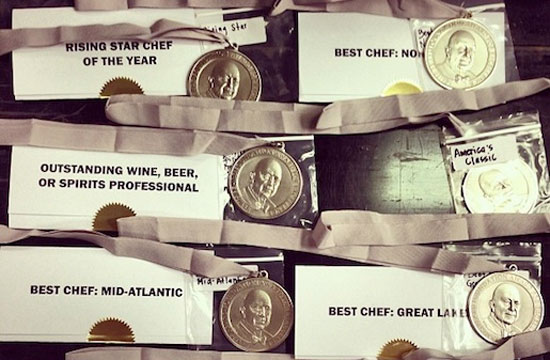 The biggest night in food has come to a close, and everyone in attendance should be turning the corner of their hangovers right around now, so we think it's safe to relive the fun. Last night's James Beard Awards unfolded in the beautiful Avery Fisher Hall at Lincoln Center, and we were lucky enough to snag a spot on the red carpet as our favorite chefs doffed their jackets in favor of more glam gear (a sight to behold, we're telling you).
Stomping the red carpet to a crowd of adoring fans held back by a double row of barricades is a far cry from the heat of the kitchen, and we were dying to know how the chefs were dealing with this very different kind of pressure. Spoiler alert from Chris Cosentino: "It's awkward."
In the gallery below, Elizabeth Falkner talks about leaving Krescendo, Jacques Pepin wishes he wore a sign that said 'I'm a soup maker', and Emeril Legasse believes the children are our future.
We awarded Best Dressed last night via Twitter to nominee Naomi Pomeroy, but we'll give Best-Dressed Gent to Rick Bayless. Best Dressed +1 went to Andrew Zimmern's wife Rishia Haas, who was majorly turning heads in a champagne-colored sequin dress from Donna Karan. Check out our Instagram fashion roundup right here.
You may have missed Nate Appleman's cheeseburgers, and you may have missed the fight that broke out in Todd English's sushi line, but our red carpet Q & A with the chefs below will make it feel almost exactly like you were there.
Gallery unavailable
Have a tip we should know? tips@mediaite.com